Bhutan Soul Farmers Aims To Be A Model Of Soulful Self-Sufficiency In The Country
Bhutan Soul Farmers' basic tenet is the sufficiency economy philosophy promulgated by King Bhumibol Adulyadej of Thailand.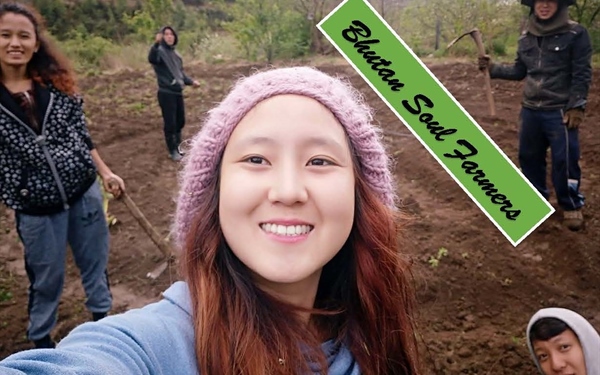 (Source: Facebook/BhutanSoulFarmers)
By Peky Samal | Business Bhutan
Bhutan Soul Farmers, an initiative by four youths, aims to promote the philosophy of self-sufficiency philosophy in Bhutan to harness the vision of Gross National Happiness (GNH).
Fifteen minutes' drive from the core of Paro town, Dotenggewog flourishes with verdant greenery and meadows spread along the Paro Chhu (River) that flows smoothly as silk when the skies are clear but tumbles and crashes in huge waves during the monsoon.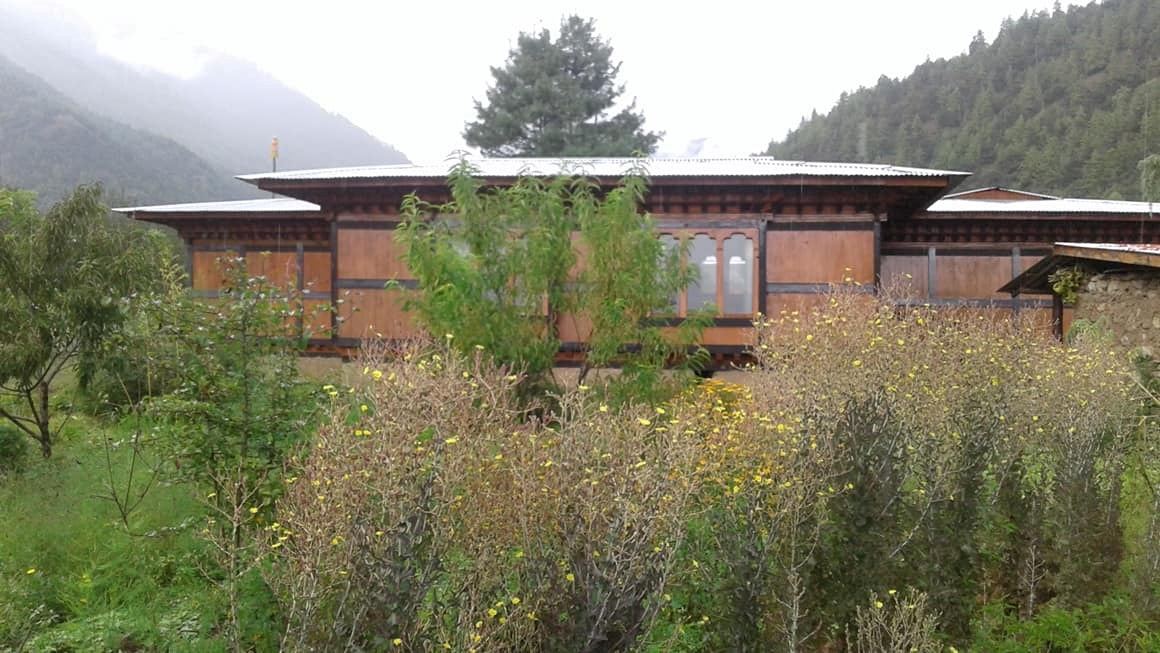 Source: Facebook/BhutanSoulFarmers
Just a small diversion from the main road and one will come across a yellow double-storeyed building. The entrance is guarded by a mixed pack of dogs including a few pit bulls but all of them are friendly.
A young lad in a tweed shirt and track pants comes out, greeting you with a wide smile. This is 22-year old Sonam Lhundup, who is one of the founders of the Bhutan Soul Farmers Livelihood Center, an agro-enterprise based on the model of sufficiency economy philosophy.
Sonam had studied with his three cousins at the Mab Eung Agri-Nature Foundation and ArsomSilp Institute in Bangkok, Thailand for four years after completing high school in Bhutan.
Bhutan Soul Farmers aims to be a model of self-sufficiency in organic products
After returning to Bhutan, they started Bhutan Soul Farmers, a brand that aims to be a model of self-sufficiency in organic products including agriculture produce like fruits and apple cider vinegar and goods like soap among others.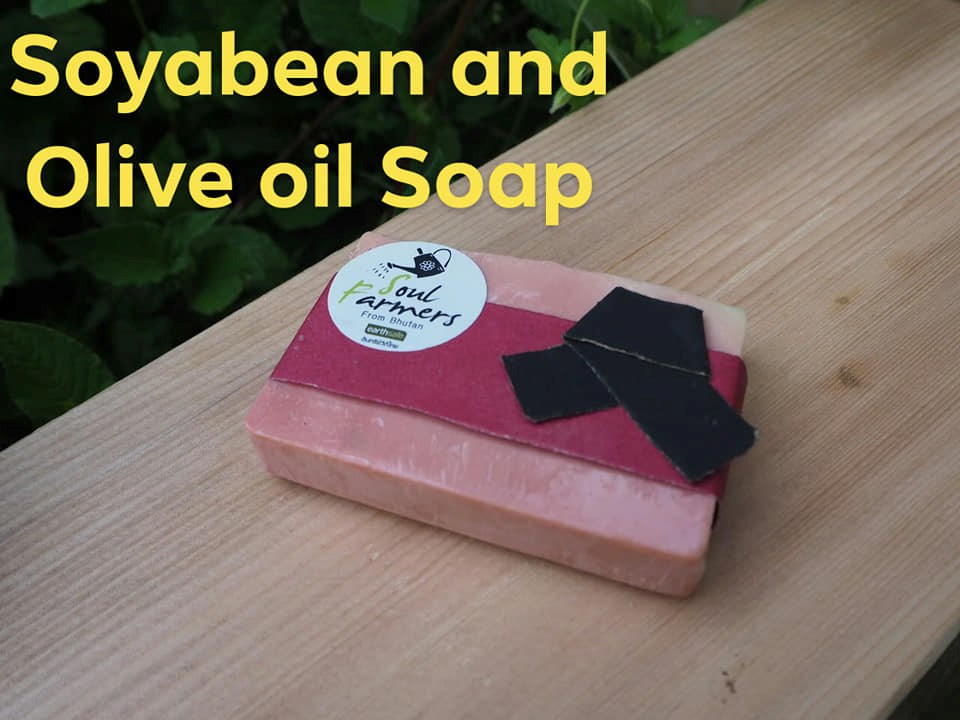 Source: Facebook/BhutanSoulFarmers
The centre will also share knowledge and skills related to land design, making home-use products, growing organic vegetables and crops, making homemade pest repellent solutions, natural water conservation techniques and so on.
Tshokey Dorji, 24, one of the co-founders said that they decided on the name because they put their very soul into the fruition of the products.
"It is not only a matter of survival for us. We are passionate about what we do and it is also because we hope to help other people through our initiatives," he said. "We believe we have a responsibility to create jobs, serve the community and the TsaWa Sum."
Meanwhile, Sonam Lhundup said all their products are unadulterated and they use as little chemicals as possible in their products such as soaps. As for agriculture produce, they use zero chemicals. They use fertilisers like compost and herbicides from marijuana, chili, garlic and chrysanthemum water.
What can one find in this mini-Eden?
Saying this, Sonam Lhundup slips on a pair of camouflage gumboots and takes you on a detour of their farm from where they derive most of their raw materials.
Bhutan Soul Farmers is a mini-Eden hidden within the woods replete with apple trees heavy with fresh apples. One can also find vegetables like pumpkin, broccoli and chillies growing beneath the apple trees. The family owns cattle too, a bull and a cow are also sheltered within the farm.
Source: Facebook/BhutanSoulFarmers
The four 20-year olds including two female, Sonam Dema and Lhundup Wangmo, have diverted the river into a channel through the farm. The gurgling of the brook provides a soothing symphony amidst the quiet and serene atmosphere of the farm.
In a corner of the farm, flax seeds are growing. They practice mixed cropping and have grown a variety of crops like tomatoes, potatoes, sunflowers and strawberries. Then, there is a special pond they are experimenting with to harvest rainwater without a cement or plastic base. Soon if it turns out successful, they will grow watercress and rear fish here.
A wooden coop containing some guinea fowls bought all the way from Pemagatshel can also be found. Seeds, grass, apples and cracked peaches are fed to these fowls which will soon provide meat when they are mature. But they are waiting for the fowls to hatch eggs first.
The farm also has mulberry bushes and a tree on which the young agro-entrepreneurs plan to build a treehouse. In another corner is a green house where capsicum, bell peppers, bitter gourd and sweet potatoes are growing. They have also learnt to make compost using worms including earthworms.
"We have never bought vegetables. And we are a family of nine people and 11 dogs," grins Sonam Lhundup.
Adopting the philosophy of self-sufficiency from the King of Thailand
Bhutan Soul Farmers' basic tenet is the sufficiency economy philosophy promulgated by King Bhumibol Adulyadej of Thailand.
There are nine steps to the sufficiency economy philosophy which is also a kind of alternative education. First of all, it starts with sufficiency in the household moving on to benefits to the community and creating networks outside of the community.
It all started in 2013 when Sonam Lhundup's father, LhundupDukpa, a Bhutanese educationist met a Thai monk from the Agri-Nature Foundation in Malaysia at an environment conference. The former was seeking for answers to revolutionise the education system in Bhutan while the latter wanted to implement the model of sufficiency economy philosophy back at his foundation.
LhundupDukpa who works as the head of the leadership unit in the professional development centre with the Royal Education Council was fascinated with what he had learnt about the sufficiency economy philosophy. He was caught up with how he could actually introduce and implement it in the country.
"Since, it was an experiment, I could find no others better than my own family members to try it out," he said.
So in 2013, when the four high school students had completed their schooling, they got a scholarship to study at the foundation.
According to LhundupDukpa, it was a unique scholarship because the students had to work, earn their livelihood and study practical work related to sufficiency.
Harnessing the tools of GNH
"Happiness begins from a plate of food. Till now, we had the GNH philosophy but we need tools to harness it and this I think is the tool," he said.
LhundupDukpa said that farmers in Bhutan are unable to manage their lands: either it is too big for them to cultivate or too small for them so they sell it off. "This is a model to save lands."
He added that what we now deem organic in the markets are laden with chemicals. "It took me seven long years to bring back the butterflies in my garden where I don't use chemicals," he said.
LhundupDukpa wants to demonstrate practically to the people that it can be done, that organic self-sufficiency is possible, through his own farm.
"We need a new model. We must understand the bigger picture, otherwise Bhutan will go hungry in the next 30 years."
Bhutan Soul Farmers plans to extend their model to other dzongkhags where each has their own family property. In Doteng, plans are on to open an organic cafeteria where Sonam Lhundup plans to serve healthy food including dandelion coffee.
"I researched on the resources available in Bhutan and learnt the recipe on YouTube," he said with a smile.
This article first appeared in Business Bhutan and has been edited for the Daily Bhutan.
---