Bhutan's GDP Growth Projected By IMF To Be Above Global Average
According to the World Bank, Bhutan's GDP growth is expected to jump to 7.4 percent this fiscal year.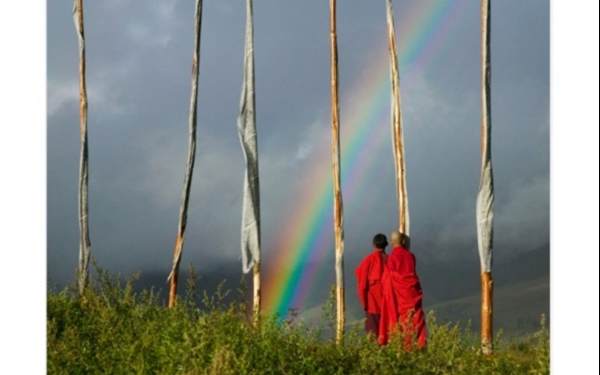 (Source: Danita Delimont)
By Tshering Dorji | Kuensel
The International Monetary Fund (IMF) has estimated Bhutan's economic growth for 2019 at 5.5 percent, higher than the global growth forecast of three percent.
However, this figure is still lower than the estimates for a few countries in the region such as Bangladesh, Nepal, India, Maldives and China.
The 2019 World Economic Outlook, which was launched in Washington D.C on October 15, projects the lowest level of global economic growth to 3 percent since the financial crisis in 2008.
This is attributed to the significant tariff increase between the United States and China that emerged from the trade war, which has hurt business sentiment and confidence globally.
According to the World Bank, Bhutan's GDP growth is expected to jump to 7.4 percent this fiscal year with the commissioning of Mangdechhu, a new hydropower plant, and the completion of the maintenance of Tala hydropower plant.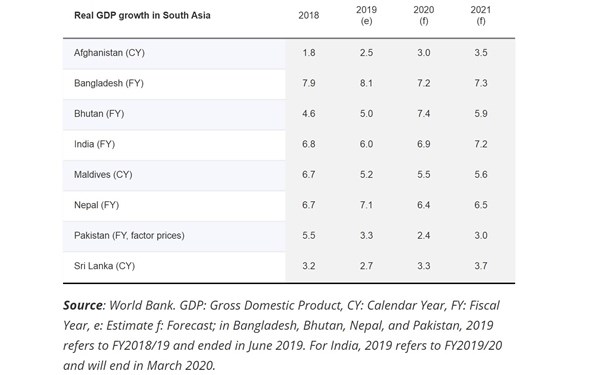 Graphic: World Bank
Growth in the fiscal year 2021 is forecasted to be just below 6 percent on the base of strong tourism growth and increased revenue from the existing power plants.
Emerging and developing Asia, according to the IMF, remains the main engine of the world economy, dominated by India and China.
Bhutan's economic growth
As per the IMF estimates, Bhutan has grown by an average of 8.4 percent between 2001 and 2010. In 2011, the country's growth hit 9.7 percent, the highest in the decade. 
Between 1998 and 2007, the country's economy grew at an average rate of 7.7 percent, and in 2008 Bhutan experienced an all-time high growth of 10.8 percent.
In contrast to various projections, including those given by the IMF and World Bank that expected Bhutan to be one of the fastest-growing economies in 2017 and 2018, the latest figures from the World Economic Outlook actually revealed a growth of 4.6 percent in 2018 and 6.3 percent in 2017.
The earlier World Economic Outlook projected Bhutan's real GDP to grow at 8.4 percent in 2018. Even in 2017, the IMF had projected the country's GDP growth to be 8.6 percent.    
In addition, Bhutan's current account balance is also estimated to improve to 9.6 percent (in the red in 2020) and to be on the positive side in 2024.
However, the Fund's chief economist, Gita Gopinath said that growing disparities in the region is a concern. To reduce inequalities, she said that good governance is the key. "Policy makers should reintegrate investment and undo trade barriers."
Several headwinds on the horizon
At a time when Bhutan is putting in efforts to attract foreign investments, the World Economic Outlook also revealed that financial flows to and from advanced economies have been much weaker since the global financial crisis. 
Other investment flows have also fallen sharply as global banks reduced the size of their balance sheets after dramatic expansion of their cross-border activities during the pre-crisis boom.
Foreign Direct Investments (FDIs) from  advanced  economies,  as  well  as inward FDIs,  have come  to  a  virtual  standstill.
In the emerging markets and low-income developing countries, public debt ratios are high and rising. The cost of servicing debt is also increasing, unlike in advanced economies where low interest rates have compensated for high debt levels. Some countries, such as Bhutan, are vulnerable to exchange and interest rate shocks.
To cushion these risks, it is important to strengthen fiscal policy. The Director of the Fiscal Affairs Department of the IMF, Vitor Gaspar, said that countries' spending must be framed in the context of a comprehensive growth and development strategy.
Building tax capacity, he said, is necessary to enable a country to generate the extra revenue that underpins inclusive development. 
As part of its efforts to realise its wide-ranging GNH philosophy of life, Bhutan has prioritised conservation of the environment, including commitments to remain carbon neutral by keeping absorption of the greenhouse gases higher than emissions.
Source: United Nations Development Programme
Climate change, he added, is one of the greatest factors that could undermine global financial stability.
The Fiscal Monitor that was also launched on October 16 presented several options such as labour tax cuts, payments to households and public investment.
The simplest way to illustrate the point is to focus on a single instrument, such as carbon taxation. If a carbon tax of USD75 per tonne is implemented globally, China and India will account for almost 70 percent of the CO2 reductions among the G20 economies.
"It is important to realise that current pledges under the Paris Agreement are not enough. They will limit global warming to 3°C. This is well above the safe level. To limit global warming to 2°C or less (the level deemed safe by scientists), finance ministers need to take further substantial fiscal policy actions," Vitor Gaspar explained.
This article first appeared in Kuensel and has been edited for Daily Bhutan.
---