Bhutan Ranked 25th Out Of 180 Countries In Transparency International's Corruption Perceptions Index
In an effort to make the country corruption free, Prime Minster Dr Lotay Tshering launched the National Integrity and Anti-Corruption Strategy 2019-2023 on 14 Aug.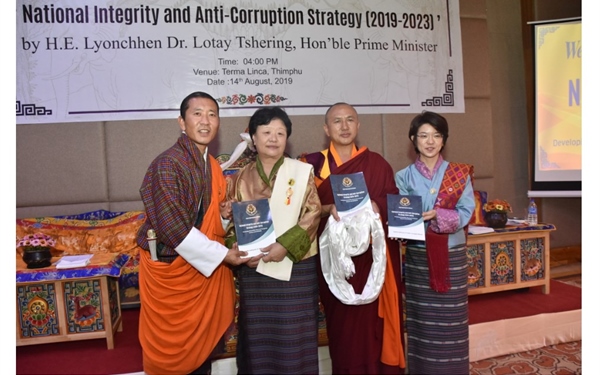 (Source: Anti-Corruption Commission/Bhutan)
By Younten Tshedup | Kuensel
In its fight against corruption, Bhutan has shown progressive improvement. From 26th position in 2017, the country jumped to 25th out of 180 countries last year on the Transparency International's (TI) Corruption Perceptions Index (CPI).
In an effort to make the country corruption free and to further reinforce DAMTSI (Developing accountable, moral and transparent systems and individuals), Prime Minster Dr Lotay Tshering launched the National Integrity and Anti-Corruption Strategy (NIACS) 2019-2023 on 14 Aug 2019.
The NIACS 2019-2023 is the third strategy adopted since 2009 and has been built on the past two strategies. For its successful implementation, a national level committee - the National Integrity Committee (NIC) has also been formed.
Steps taken to fight corruption
Headed by the Prime Minister, the committee comprises of members from the government agencies, judiciary, constitutional offices, civil service organisations and private sectors.
The Anti-Corruption Commission's (ACC) chairperson, Kinley Yangzom said that since the establishment of the commission in December 2005, anti-corruption strategies have been a guiding framework to prevent corruption in the country.
Source: Anti-Corruption Commission/Bhutan
The first two strategies have made notable achievements, particularly in strengthening the legal framework on anti-corruption and introducing integrity measures.
The third strategic framework further builds on the previous two strategies to facilitate the government and agencies to fight corruption collectively with a greater sense of shared responsibility, ownership and synergy.
Looking ahead: what needs to be done
The chairperson said that while Bhutan is considered as a progressive nation, particularly in driving its anti-corruption agenda, there is no room for complacency and a lot more still needs to be done.
With further decentralisation, increasing economic diversification and transitional challenges with the country graduating to the lower middle-income status by 2023, Kinley Yangzom said that Bhutan would become increasingly vulnerable to more complex forms of corruption.
Fighting corruption in the country has been more of an anticipatory manoeuver than a response to crisis. In order to strengthen the resilience of governance systems to withstand contemporary corruption vulnerabilities, the ACC officials said that the NIACS is an antidote to prevent corruption from taking its toll.
Drawing inspiration from His Majesty The King's wisdom that: "the future is neither unseen nor unknown. It is what we make of it," a contemporary approach of Foresight methodology, one of the latest planning tools was used to stress-test and validate the strategy's relevance, resilience, adaptability and responsiveness to uncertain environment.
The United Nations Development Programme (UNDP) also provided support in reviewing the 2nd NIACS (2014-2018) as well as implementing the 'Foresight' exercise in finalising the draft strategy involving consultations with a wide spectrum of stakeholders. 
Source: Anti-Corruption Commission/Bhutan
The NIACS closely aligns with the 12th Plan to guide the effective realisation of the 12th National Key Result Area 'Corruption Reduced' with three strategic objectives – transparent, accountable and integrity culture strengthened; integrity consciousness enhanced; as well as credibility and effectiveness of law enforcement and regulatory agencies.
The strategy is also aimed towards channelling the political will of leaders and efforts of the implementing agencies in collectively driving the anti-corruption agenda.
All the agencies are expected to incorporate the mandatory indicator on corruption reduction in their respective Annual Performance Agreement (APA) and Targets.
Everyone should be responsible for fighting corruption
Meanwhile, the Prime Minister said that fighting corruption is everybody's responsibility and collective effort is required to address corruption.
"This government will have a lot of focus on this. Whether it is mandated as the government or not, personally I take this matter with a lot of interest."
Soon after the election results, the Prime Minister spoke of the many issues that were discussed at a meeting with his cabinet; that he would not tolerate corruption.
"It doesn't really matter in what shape and size, it doesn't matter in what amount, as long as the intent is wrong, that will not be acceptable. This government will have absolutely zero tolerance to corruption," said the Prime Minister.
This article first appeared in Kuensel and has been edited for Daily Bhutan.
---