Bhutan Prides Itself For Its Free Public Heathcare, Higher Budget Proposed For The 12th Plan
The allocation of the fund is still under negotiation with the Gross National Happiness Commission.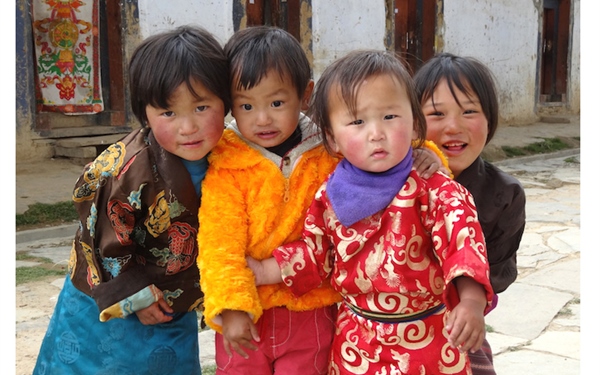 (Source: Wholesome Life)
By Dechen Tshomo | Kuensel
The Health Ministry of Bhutan has proposed a budget of about Nu 4.02B (Billion) for the 12th Plan. The allocation of the fund is still under negotiation with the Gross National Happiness Commission (GNHC), which has allocated Nu 3.62B.
In the 11th Plan, the Lyonpo said that the allocation was about Nu 5B.
"So it is coming to about Nu 4.12B and our revised proposal to the GNHC to around Nu 4.02B. We are still in discussion."
The Lyonpo said that as of now, the ministry is looking at about Nu 2.6B, with a little more than Nu 1B as capital budget and about Nu 1.12B as spillover funds from the 11th Plan.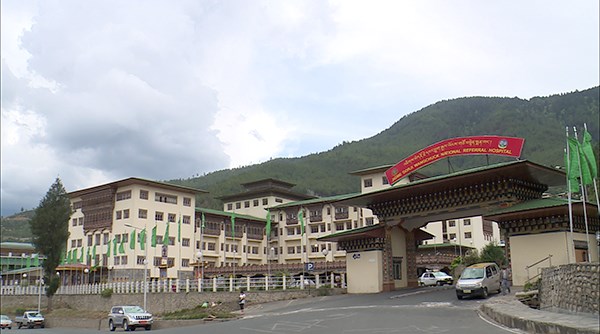 Jigme Dorji Wangchuck National Referral Hospital in Thimphu
Photo: BBS
"That gives us Nu 2B allocation to work with."
"The allocation of the health budget as a proportion of the GDP is around 3.7 percent as of 2016," the Lyonpo said.
"What we are advocating for is a fund allocation of above five percent."
Bhutan's spending on the healthcare sector has declined steadily over the years
In hindsight, Bhutan's spending on the healthcare sector has declined over the years. From 5.7 percent of GDP spent on health in 2000, it has dropped to 4.9 percent in 2003, and 4 percent in 2006.  It was cut further to 3.65 percent in 2010 and 3.55 percent in 2012.
For the fiscal year 2014-15, the spending on health was 4 percent, subsequently declining to 3.9 percent in 2015-16.
"If you really want to make a transition from basic health services to quality and comprehensive health services, we should definitely have to look forward to having a bigger fiscal space for health," the Lyonpo said.
"Our idea is that we really want to provide quality and comprehensive services for our people and that is what we are negotiating at the moment with the GNHC."
Health Secretary, Dr Ugen Dophu said during a high-level advocacy event for parliamentarians and key stakeholders for accelerating the prevention and control of non-communicable diseases (NCDs) in Thimphu last week that Bhutan needs to spend a certain percentage of its budget on disease prevention and health promotion.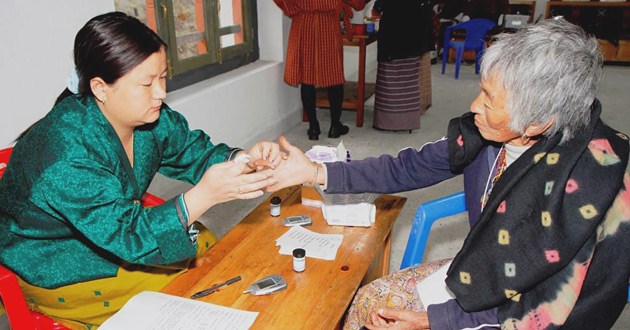 A chance encounter with a primary healthcare worker in a remote mountain village in 2012 literally changed Boko's life – for the better.
Photo: World Health Organisation
"Unless Bhutan spends a certain percent of our budget on this, we will be overwhelmed one day by just spending money on curative care," Dr Ugen Dophu said.
Myriad of challenges which the government face in providing free health care
He added that the Health Ministry also faces many challenges in providing free health care to the people.
"Although we have come a long way in controlling communicable diseases, non-communicable diseases due to a change in lifestyle and dietary style leads to increased cost in health care expenditure."
Dr Ugen Dophu said that in order to treat a case of diarrhoea, the Health Ministry can manage within a budget of Nu 200 but to treat a case of hypertension, the cost for one patient for a visit is about Nu 600.
"In order to treat patients with diabetes, hypertension or kidney failure and to keep these group of patients alive for many years, the cost to the government's coffer is rising every year."
It costs the ministry a huge amount of money to introduce new technologies and new services. Moreover, people's expectation from the public health system has increased.
"People expect five-star kind of services from health services which in the public healthcare system is quite difficult with resource constraint."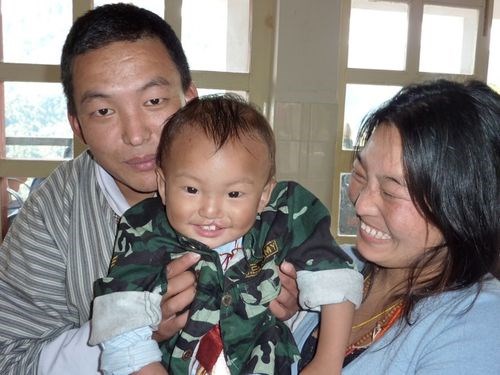 Bhutan Cleft Care Project Team's efforts gave this child a new smile.
Photo: Nick is central westend guide
As Bhutan is graduating to become a lower middle-income country (from its 'least developed countries' status) and donors have already started withdrawing funds, so it is a huge challenge for the health ministry.
"This downward trend of GDP expenditure on health is not good for all Bhutanese."
Prime Minister Dr Lotay Tshering said that Bhutan has always taken pride in providing free healthcare services to its people.
Advocating for an increase in budget for the healthcare sector
"But, on the flip side, we have always had about 3.5 and 3.4 percent, not even 4 percent of the GDP as health budget," the lyonchhen said.
"If we look at these two together, we never had enough budget – meaning, for a very less proportion of the budget that is spent on health, we are giving everything free, which clearly shows that we actually do not have good quality health care."
From a health economics point of view, the lyonchhen said that spending very little and providing everything free means the health care system is not good. 
"We have done enough and very well on primary health care. Now we are embarking into tertiary health care," the Prime Minister said.
"Currently, we do not have a hospital that qualifies as 'international tertiary level' health care. As we embark on it, the sector would need more funds."
Lyonpo Dechen Wangmo said that the ministry is happy to report that it might have, after going through the scrutiny of the government, a flagship programme for health.
"A team, at the moment is working on the flagship programme and if it gets through, then we will have a flagship for health."
This article first appeared in kuensel and has been edited for the Daily Bhutan.
---