Bhutan Presented 3rd National Report To UN Human Rights Council In Geneva, Switzerland
Bhutan has made significant progress since the country presented its second Universal Periodic Review in 2014.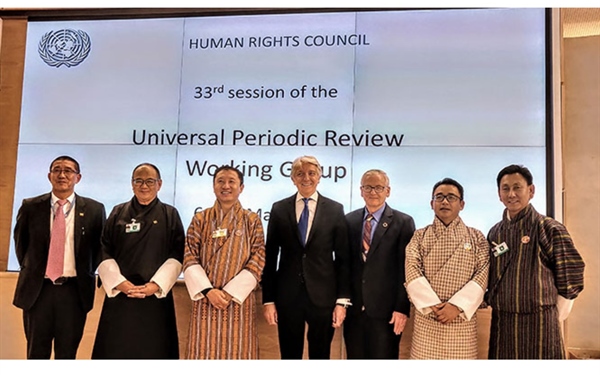 (Source: South Asian News)
By Staff Reporter | Kuensel
Bhutan presented its third national report to the UN Human Rights Council under the Universal Periodic Review (UPR) mechanism on May 8 in Geneva, Switzerland.
In his statement to the review body, Bhutan's Foreign Minister, Dr Tandi Dorji highlighted the Constitution of the Kingdom of Bhutan as the foundation for the protection and promotion of fundamental human rights.
He also mentioned the significant progress that Bhutan has made since the country presented its second UPR in 2014.
Highlighting the challenges faced by Bhutan
While highlighting the challenges such as the lack of appropriate institutions, resource constraints and the state of national readiness to assume greater international obligations, the Lyonpo, Dr Tandin Dorji reiterated the commitment of the Royal Government to the principles of the Universal Declaration of Human Rights.
He also emphasised the continued pursuit of state policies to further enhance the situation of human rights in Bhutan.
 Source: UN Web TV
"Ninety-six Members States took the floor to commend the progress made by Bhutan and recommended actions to address existing gaps," a press release from the Foreign Ministry states.
During the visit, the Lyonpo, Dr Tandin Dorji also held bilateral meetings with the Foreign Ministers of Norway and Switzerland, Ine Marie Eriksen Søreide and Ignazio Cassis on 07 May 2019 in Bern, Switzerland.
The Ministers discussed bilateral relations between the countries (Bhutan and Switzerland) and ways to further strengthen cooperation.
He also met the United Nations High Commissioner for the Refugees, Filippo Grande and the representatives of Society Switzerland Bhutan.
Review of recommendations by the Member States
The Royal Government of Bhutan will review the recommendations received from the Member States in the coming days.
The Human Rights Council will adopt the report of Bhutan's Third Universal Periodic Report on the situation of human rights in Bhutan in September this year.
This article first appeared in Kuensel and has been edited for Daily Bhutan.
---