Bhutan National Bank Launched 4 New Services, Accepts Major Credit Cards And 135 Foreign Currencies
"There is immense development in the bank," said Finance Minister, Namgay Tshering.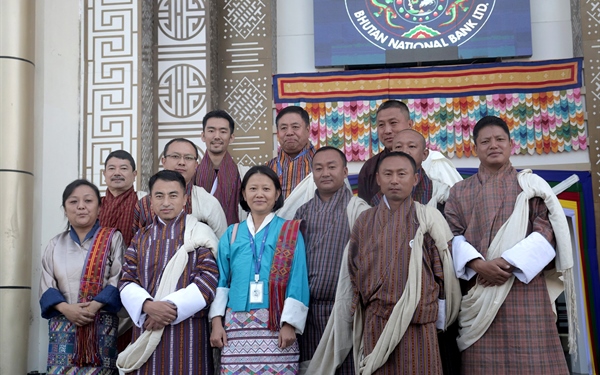 (Source: Facebook/Bhutan National Bank Limited)
By Phub Dem | Kuensel
With the launch of Bhutan National Bank (BNB)'s payment gateway on 27 Aug, tour operators can now directly receive payment from international visitors.
The system that rides on the national online international payment gateway will be able to accept 135 different currencies from around the world as well as cards including VISA, Mastercard, AMEX and Discover, among others.
Without a proper payment gateway, tour operators had to spend weeks processing payment of visa fees from their international guests.
Bhutan National Bank will be providing training to tour operators and related parties. The training will cover detailed information on the signup process, generation of invoice, payment processing and disbursement of funds. 
Source: Facebook/Bhutan National Bank Limited
Some tour operators shared bitter experiences of having lost visitors due to the lengthy and unsecured banking processes.
Three other services launched by Bhutan National Bank
Coinciding with the official inauguration of its corporate building yesterday, BNB also launched three other services - BNB Ngotshab, BNB Thuendrel Gatshor and the Loan Origination System.
BNB Ngotshab is a banking solution where agents across the country will assist people in availing the bank's services. People using this service will be able to carry out transactions across any bank in Bhutan.
Strategy Officer of BNB, Diwas Puri said that any individual or business entity can become an agent.
"They will be given incentives for carrying out the transactions."
For a start, BNB has partnered with Bhutan Post, considering its presence in all parts of the country.
Services available
This service covers account opening, balance inquiry and payment of utility bills, loan instalments, insurances, taxes and mobile recharge. Customers of other banks can also withdraw cash and perform balance inquiries.
Source: Youtube/Bhutan Broadcasting Service
BNB Ngotshab intends to reach out to the 'un-banked population' and encourage them to be a part of the financial network. It also aims at enhancing customer satisfaction and financial inclusion.
The relationship pricing module or BNB Thuendrel Gatshor is another service that strives to acknowledge and reward clients who extensively engaging with the bank.  It will enable focused attention and align the system to serve selected clients.
The bank will also offer cash-back rewards, fee-waiver, discount on services such as bank guarantees and letters of credits among others to those select customers.
About the Loan Origination System
Aligning with the latest Fintech solution technology, BNB also launched a new iteration - Loan Origination System (LOS).
The LOS is a digital system for managing applications and the loan disbursement system. It helps in simplifying the document appraisal process. The new feature will accelerate loan delivery, automate repetitive tasks, track loan applications and enable more transparent decisions.
For the financial institutions, LOS enables user to create data-driven solutions. The new feature is expected to improve the credit management system of the bank.
Finance Minister, Namgay Tshering who inaugurated the opening of the corporate building said that the bank's credit relationship has grown by over 40 times from Nu 687 million to about Nu 30 billion in four decades.
"There is immense development in the bank. It is one of the banks that offer employment opportunities and a high salary to the employees," he said.
This article first appeared in Kuensel and has been edited for Daily Bhutan.
---