Bhutan Marked International Day Against Drug Abuse And Illicit Trafficking With The Theme 'Listen First'
This year, the United Nations celebrated the International Day against Drug Abuse and Illicit Trafficking with the theme 'Listen First.'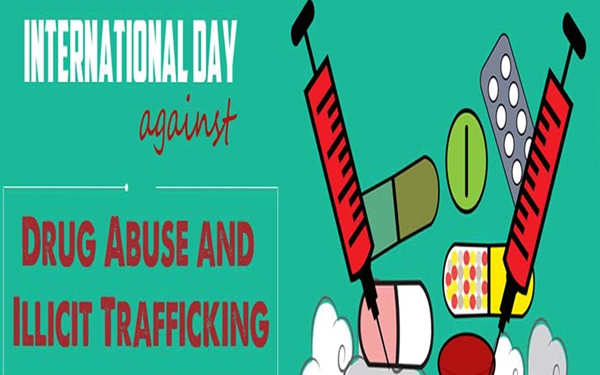 (Source: Medindia)
By Chencho Dema | Business Bhutan
This year, the United Nations celebrated the International Day against Drug Abuse and Illicit Trafficking with the theme 'Listen First.'
The Resident Coordinator of the United Nations in Bhutan, Gerald Daly said that as daunting as addiction problems are, each individual can do their part and take action.
Compassionate listening is encouraged as a way to fight substance abuse
He added that policy makers and also concerned citizens, parents, teachers and engaged youth can work together to prevent substance abuse and contribute to the Sustainable Development Goals to ensure that no one is left behind.
"I would like to urge each one of us, the next time you come in contact with a friend, partner, relative, or anyone else who might be struggling with addiction to listen from the heart," said Gerald Daly.
"Compassionate listening is powered by generosity. It is a virtue we can grow so it becomes instinctive."
The World Health Organization explains the term 'abuse' as a phenomenon where there is a maladaptive pattern and continued use of drugs despite experiencing persistent or recurrent social, occupational, psychological or physical problems.
Statistics of drug abuse in Bhutan
In a survey carried out in the Bhutan Vulnerability Baseline Assessment in 2016, an estimated 68% of the people who use drugs and substances get them from their peers and another 16% obtain drugs and substances through cross border exchange.
The Royal Bhutan Police reported that more than 98% of the arrests related to drugs were committed by youth while cannabis users account for 72% of the total number of drug users in Bhutan.
This year, in just two months (January to mid- March), 27 drug traffickers and 71 drug abusers were caught by the police in Thimphu alone.
The Thimphu police registered 287 cases in 2017 in connection with abuse, possession and illegal transactions of controlled substances that led to the arrest of 596 people, the highest in recent years.
The World Health Organization's report (2017) on mental health status of adolescent in South-East Asia reports that Bhutan has the highest number of adolescents currently using marijuana at 12 percent among the 11 countries in the WHO South-East Asian region.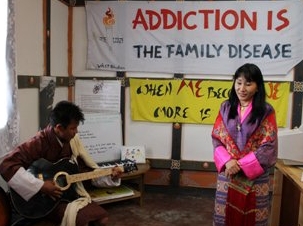 Caption: Queen Mother - Her Majesty Ashi Tshering Pem, graced the first National Baseline Assessment on Drugs and Controlled Substance use in Bhutan
Source: UNODC/South Asia
"These numbers are quite alarming for a small population in Bhutan," said the Gerald Daly.
Meanwhile, the international community continues to face many problems that stand in the way of achieving the aim of a world without drug abuse. There is the opioid crisis and other urgent drug problems, compounded by gaps in health and social services that leave far too many people without the help they need.
Aims of establishing the International Day against Drug Abuse and Illicit Trafficking
The International Day against Drug Abuse and Illicit Trafficking was established by the United Nations General Assembly to strengthen global action and cooperation.
"We at the United Nations Office on Drugs and Crime (UNODC) are committed to working with the people of Bhutan to advance balanced, people-centred and holistic approaches to drug challenges, fully in line with the universal drug control conventions," said Sonam Wangdi, National Coordinator for UNODC Bhutan.
Research suggests that early-to late adolescence is a critical risk period for the initiation of substance use. By breaking the chain of social, neurobiological and psychological factors and inequalities that can increase susceptibility to drug-use disorders, young people can be helped to grow up healthy and safe.
In his address at the International Day against Drug Abuse and Illicit Trafficking in Paro on Tuesday, Gerald Daly said that by listening to the needs of children and young people, prevention can contribute to their safety, health and well-being and enable them realise their potential.
"All our societies would be better off if more resources were devoted to supporting evidence-based drug prevention strategies, which are a sound and effective investment in families, schools and communities," said Gerald Daly.
"When we are talking about the lives and futures of the next generation, prevention is truly better than cure."
The important role that we can all play by being compassionate listeners
A press release from the United Nations House states that every individual has a part to play in fighting the pain of addiction, as parents, policy makers, friends, teachers and individuals. Each and every individual must be compassionate listeners.
Parents have the most influence in helping children grow up happy and learn to cope well in difficult life situations. It is important for parents to leave the conversation-door open, so that children can discuss problems. A strong bond between children and parents is based on listening to them and showing care and love.
The press release added that we all need to be vigilant in showing compassion towards those who are still suffering, as well as anyone who is, or trying to fight addiction.
Pema Choden, who has been trying to help his brother fight drug addiction said that she realised that as human beings, judging others comes naturally in Bhutan when it comes to drug abusers.
"If we hold people at arm's length and think of only the drugs they use and the ugly things they do, we will never be able to treat addiction like the medical condition it is and find compassion for those humans who are going through it," said Pema Choden.
While it is obvious that the government has the responsibility to counteract both drug trafficking and abuse, communities can also make a major contribution. Families, schools, civil society and religious organisations can do their part to rid their communities of drugs.
Moreover, businesses can help provide legitimate livelihoods for ex-drug abusers. The media can also raise awareness about the dangers of narcotics.
"Our efforts to promote development and fight drugs and crime will be more effective if they are rooted in partnerships with the youth, civil society, governments and the international community," states the press release from the United Nations House.
"Working together, we can alleviate the suffering of millions and break the hold of drugs and crime on countries, communities and families."
This article first appeared in Business Bhutan and has been edited for the Daily Bhutan.
---