Bhutan Is An Important Partner For Us: Tomasz Kozlowski, EU Ambassador To Bhutan
"We are an important partner for Bhutan and Bhutan is an important partner for us," added Ambassador Kozlowski.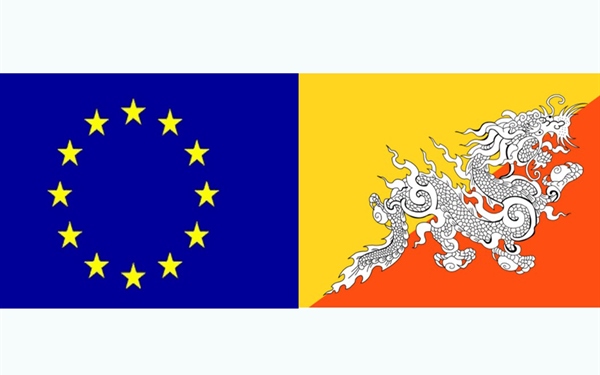 (Source: Mr Flag/Indiamart)
By Rinzin Wangchuk | Kuensel
Tomasz Kozlowski, Ambassador of the European Union (EU) to Bhutan based in New Delhi, who was on a farewell visit to Bhutan from August 20 to 22, applauded the government for utilising the EU's development assistance effectively and efficiently.
While in Bhutan, the Ambassador met Prime Minister Dr Lotay Tshering, Foreign Minister Dr Tandi Dorji, Agriculture Minister Yeshey Penjor, Home Minister Sherub Gyeltshen, and the Gross National Happiness Commission Secretary, Thinley Namgyel.
He also met with the Opposition Leader Pema Gyamtsho (PhD), other high-level Bhutanese officials, members of the mass media and other partners.
EU's assistance to Bhutan thus far
The EU which consists of 28 countries, has had strong cooperation with Bhutan since 1982. According to the EU Ambassador, 80 percent of EU assistance to Bhutan has been channelled for use according to the procedures and priorities of the Bhutanese government.  
There are two main budget support projects that the EU is financing. The first one supports the local government and fiscal decentralisation, which is managed by the Ministries of Home Affairs and Finance while the latter supports agriculture and climate-related agenda.
In addition, the EU tripled its financial assistance to Bhutan for the period between 2014 and 2020 to €52million (Nu 4 billion) for its self-reliance and inclusive socio-economic development.
As a long-term partner, the EU supports Bhutan's efforts towards democratic governance, sustainable economic and agricultural development, climate change adaptation, and other national priorities projects.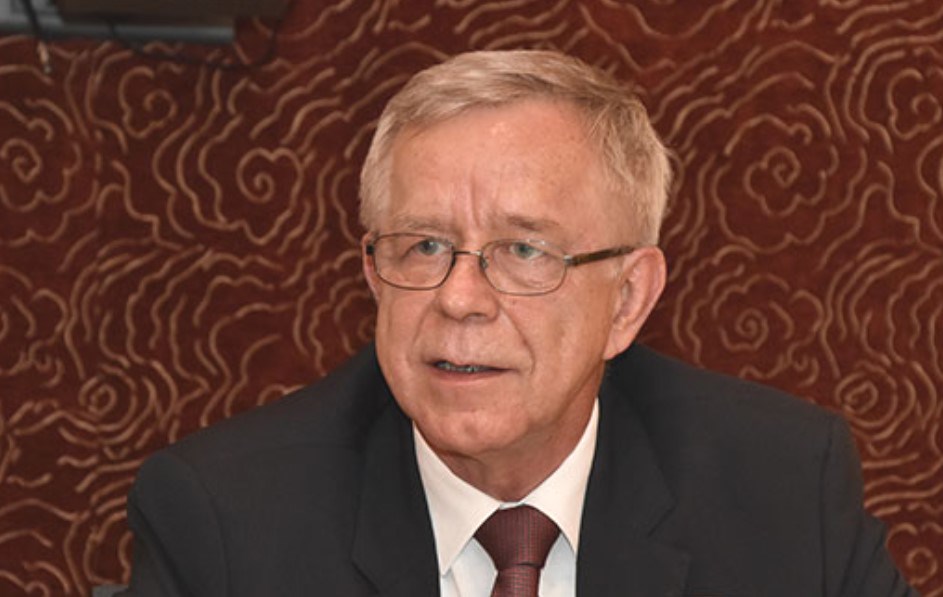 Tomasz Kozlowski, Ambassador of the European Union to Bhutan.
Photo: Kuensel
The core of EU assistance, according to Ambassador Kozlowski, is provided through direct budget support to the government programmes according to its priorities.
The EU and the government were also in consultation about 'post-2020 envelope', in line with Bhutan's 12th Plan and the possibility of providing further support after Bhutan's graduation from its LDC status in 2023.
In fact, the EU's support to Bhutan has reached a level of €68.4 million between 2014 and 2020 and this included budget support for different regional and thematic projects.
New areas of cooperation
While in Bhutan, Ambassador Kozlowski launched a new project to improve Global Research and Education Network Connectivity from Bhutan to the Trans-Eurasia Information Network, under the umbrella of the Asia Connect project.
The initiative, with an overall EU funding of €20 million, ensures that 24 Asia-Pacific countries are connected by powerful high-capacity and high-quality internet linkages.
The EU and Bhutan has always enjoyed a strong bilateral relationship and Ambassador Kozlowski is confident that this new project would further enhance ties.
"Strengthening our connections between research and education communities will not only improve Bhutanese's access to education and research resources but will also have a long-term positive impact on its economy and well-being," he said.
Bhutan is also one of the beneficiaries of the EU funded Erasmus+ higher education programme.
Ambassador Kozlowski said: "We have different types of projects. For example, we provide support for the development of a civil society in Bhutan because we think that a civil society is an important element of a democratic society."
One of the objectives of Ambassador Kozlowski's visit to Bhutan was to understand the government's priorities, expectations, economic and social plans. His last visit to Bhutan was in April this year.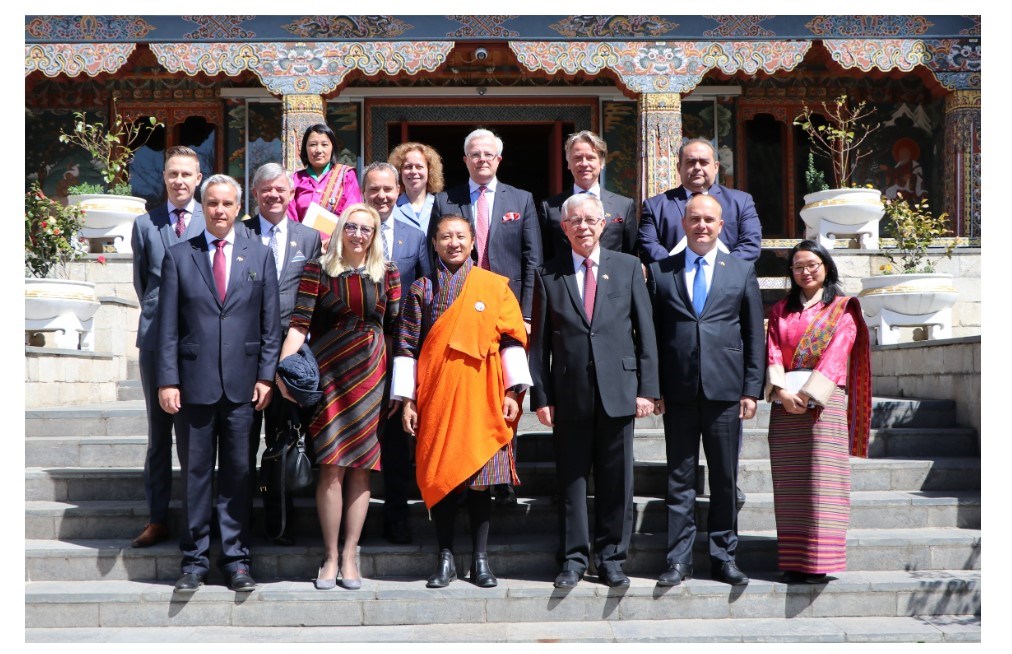 A delegation of European Union Ambassadors based in New Delhi, India led by the Ambassador of the European Union to Bhutan, Tomasz Kozlowski was in the country from 2-4 April 2019.
Photo: Asian News Network
With regards to EU-Bhutan relations for which the ambassador has been responsible for the last four years, he said:
"I have been personally engaged in promoting EU-Bhutan relationship. I am leaving Bhutan with a high level of satisfaction. We perceive Bhutan as one of the important partners on global issues."
Both EU and Bhutan are important supporters of the implementation of the Paris Agreement as well as all actions taken by the international community in the field of climate change.
"We are an important partner for Bhutan and Bhutan is an important partner for us," added Ambassador Kozlowski.
Recently, the EU decided to provide additional assistance to Bhutan for the development of a national training centre for research and rescue.
"We mobilised resources for the implementation of a Water Flagship Programme and will provide some technical assistance for migrational border control. We will also assist in the production of organic food, facilitating a switch project from traditional to organic agriculture." said Ambassador Kozlowski.
Support for Bhutan after its graduation from the Least Developed Countries status
Ambassador Kozlowski, who received an audience with His Majesty The King on August 21, said that Bhutan's formal graduation from its Least Developed Countries (LDC) status in 2023 would have some consequences as it will not be eligible for certain forms of international support and schemes.
This means that Bhutan must look for diversification of income source to finance her economic development.
"That is why the European investment bank is ready to step in with concessional loans," Ambassador Kozlowski said.
"I hope Bhutan will soon enter into an agreement with the European investment bank, which is a key EU financial institutions."
As a middle-income country, Bhutan could lose certain trade privileges but the EU is ready to maintain some privileges under the GSP+ system, he added.
Ambassador Kozlowski assured Bhutan that the EU will be committed to continue supporting the democratisation process, economic and social development of Bhutan even after its graduation from the LDC status.
Although the Ambassador has never visited Bhutan before his appointment as the EU Ambassador in 2016, he has made regular visits to Bhutan thereafter and he knows the country very well.
"I feel at home here. I will physically be in Europe but I'm not leaving Bhutan," he said.
This article first appeared in Kuensel and has been edited for Daily Bhutan.
---