Bhutan Film Festival Held In Sikkim To Commemorate 50 Years Of Bhutan-India Friendship Ended With Colourful Traditional Dances
Bhutanese celebrities and Sikkim's local artists performed various traditional and cultural performances at the festival.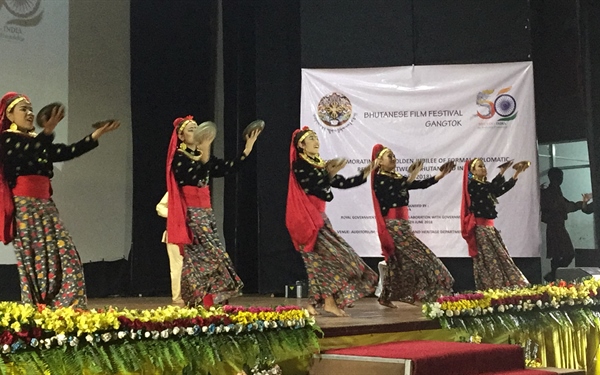 (Source: Doim.gov.bt)
By Rajesh Rai | Kuensel
Colourful dances, music and appreciative applauds filled the hall at the first Bhutan Film Festival (BFF) of the country held at Gangtok, Sikkim, India on June 23-24. 
The two-day festival held to commemorate 50 years of Bhutan-India formal relations concluded with a huge fanfare.
At the opening day of the event on June 23, the chief guest, KN Rai, the Speaker of the Sikkim Legislative Assembly said that Bhutan and Sikkim have been friendly neighbours from time immemorial.
"Today India enjoys one of the best relationships with Bhutan," he said, adding that the friendship continues with Bhutan as the most reliable ally to India.
He also said that it is heartening to note the 50-years of establishment of Bhutan-India relations, as Bhutan is poised for dawn of new era.
"Bhutan is growing steadfast in all spheres of development. And yet it has maintained its tranquillity and people's happiness."
He added that there is so much to learn from Bhutan.
Fanciful cultural performances held to mark the conclusion of the First Bhutan Film Festival
Bhutanese celebrities and Sikkim's local artists performed various traditional and cultural performances at the festival on June 23.
The Bhutanese song 'Gangchen mengi jonglu', which is one of the three songs of the Film Association of Bhutan (FAB) created with a remix touch as well as a prominent Nepali song "Malai Sikkim Manparcha" of Sikkim origin became a hit at the event.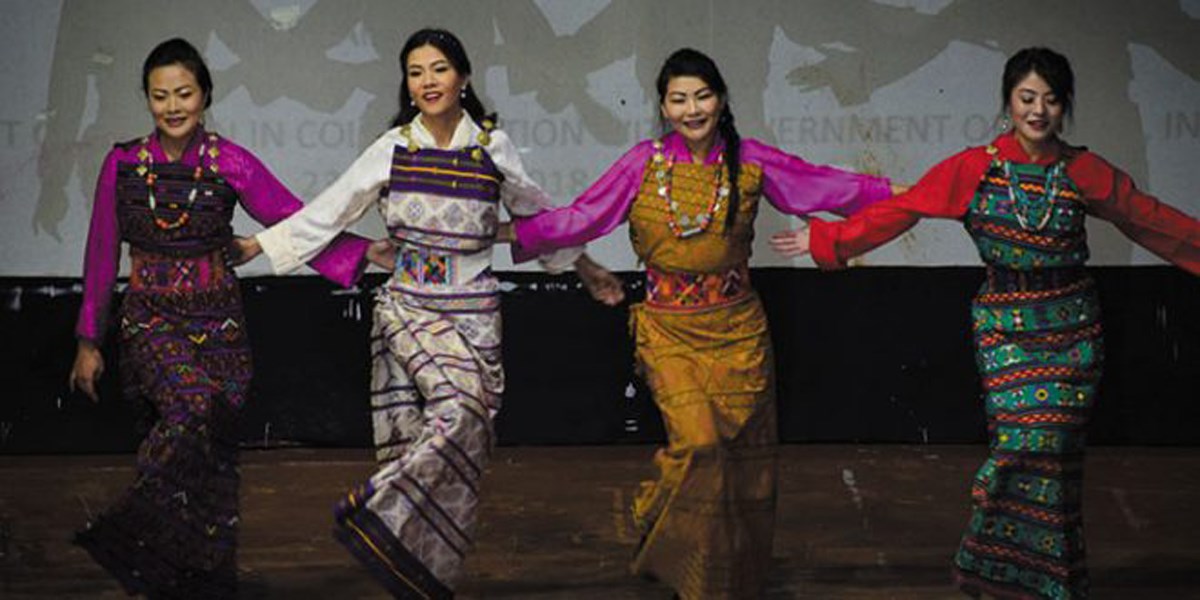 Source: Kuensel Online
Sikkimese artists performed flamboyant dances such as the Bhutia dance, a Lepcha folk dance, and Maruni, a cultural dance.
A Bhutanese singer and actor, Samten Wangchuk, said that Sikkimese artists performing on stage showed the vibrant culture they have.
"The dances were so beautiful and they touched my heart," he said.
He also said that as it is the first film festival and celebration in line with the Golden Jubilee of Bhutan-India friendship, the Sikkimese film fraternity should also bring their programs to Bhutan in the future.
"If such events continue, it would promote cross-cultural activities."  
Six Bhutanese movies were also screened during the two-day film festival. 'Terma'- Prophecy was one among the six screened.
At the end of the program, the director of photography of this movie, Pelden Dorji, who is also one of the founding members of the FAB, said that there should be more of such festivals.
Importance of promoting Bhutanese films across borders
"This is like a testing ground for us," he said, adding that it is important to take Bhutanese films across the borders. "I am hoping to have a similar festival in Ladakh."
Pelden Dorji revealed that film festivals are a means to market Bhutanese films.
"Bhutanese market, otherwise, has reached its limits and dying."
He said that Bhutanese filmmakers should take risks and change the movie-making trend that exists today and make it more Bhutanese.
"It will take time," he said. "We need to feed audiences with such movies and train them to like them."
Reflection on 50-years of Bhutan-India relations
Talking on the 50-years of Bhutan-India celebration, the Consul General of Bhutan in Kolkata, Thinley Wangchuk, who attended the program as the Bhutanese delegate said that the special relationship has been sustained with the tradition of regular high-level visits and dialogues between the two countries.
"The diplomatic relations with India was established on January 8, 1968 with the appointment of a special Indian officer in Bhutan," he said.
He said that resident representatives were exchanged on May 17, 1971 and upgraded to the status of an Embassy on August 8, 1978.
"Mutually beneficial economic links between Bhutan and India have been an important element of bilateral relations."
He emphasised the significance of this friendship. "It is a year-long event, exceptionally meaningful for the government and people of the two countries."
This article first appeared in Kuensel and has been edited for the Daily Bhutan.
---