Bali-Bhutan Art Exhibition Hosted By VAST Bhutan To Enhance Friendship And Exchange Of Ideas
Founded in 1998, VAST Bhutan has been promoting and facilitating art exchange programmes with various nationalities.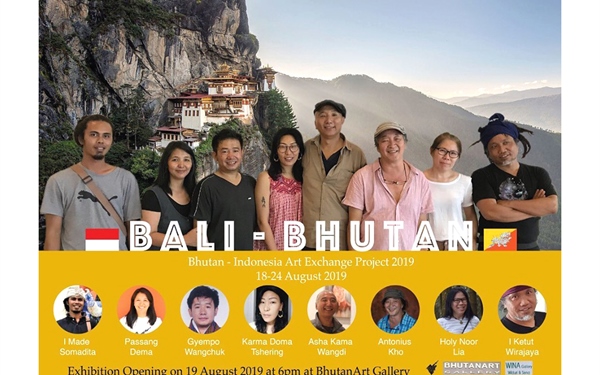 (Source: Facebook/VAST Bhutan)
By Choki Wangmo | Kuensel
VAST Bhutan hosted four Balinese artists and launched the second part of the Bali-Bhutan Art Exchange group exhibition at the Bhutan Art Gallery in Thimphu on 19 August to develop and strengthen Bhutan - Indonesia friendship through art.
The six-day exhibition is aimed at proving a platform for Bhutanese and Indonesian artists to share their ideas, techniques, and other elements of an artist's practice.
Aims of hosting the Bali-Bhutan Art Exchange group
The purpose is to help them develop and enrich their creative expressions since the majority of the contemporary Bhutanese artists are self-taught. 
The art exchange programmes are seen as means to thinking beyond national borders and deepen artistic and innovation skills. Exchange among artists is expected to improve goodwill and friendship between the two countries.
The founder of VAST Bhutan, Asha Karma Wangdi, said that young artists in the country were fortunate to have guidance and support from His Majesty The King and their parents.
Asha Kama, founder of VAST Bhutan is a passionate artist who believes that art can be a powerful medium to tackle many social ills. A sincere volunteer, Asha Kama is also the recipient of the Award of the National Order of Merit (Gold medal) by His Majesty the King of Bhutan for his outstanding contribution to the arts and voluntary service for the children and young people of Bhutan in 2010.
Source: Youtube/Druk Asia Bhutan Travel Specialist
"Our young artists are trying hard. There are opportunities when there is support and goodwill."
Foreign Minister, Dr Tandi Dorji said that until now the governments had been focusing on political and economic diplomacy.
Importance of cultural diplomacy
"We need to give importance to cultural diplomacy, to have exchange of arts and crafts, which contribute towards understanding, building friendship, and strengthening diplomatic ties. Arts and crafts encompass important aspects of this development," he said.
According to Lyonpo, art exchanges help artists from different countries take opportunities and learn some of the techniques to express themselves through creative works and skills. 
An artist from Indonesia, I Ketut Jaya Kaprus, who had been painting for the last two decades, said that good spirit is a must for a creative art. The artworks of Bhutan and Indonesia are different but the central idea remains the same - Art is about expression.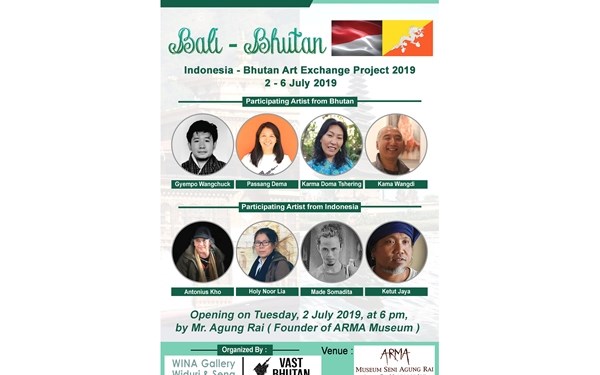 Photo: Antoniuskho
The first part of the exchange programme took place last month. Asha Karma Wangdi and three Bhutanese artists went to Bali, funded by the Prime Minister's Office. 
Founded in 1998, VAST Bhutan has been promoting and facilitating art exchange programmes with various nationalities. The exhibition will end on 24 August 2019. 
This article first appeared in Kuensel and has been edited for Daily Bhutan.
---