Advocating Sustainable 'High Value, Low Impact' Tourism, Bhutan Seeks To Mitigate Negative Fallout From Spike In Regional Tourists Arrivals
Although the increase of their arrivals has softened a little in 2018, the impact of the large numbers of regional tourists to Bhutan is visible and hard to ignore.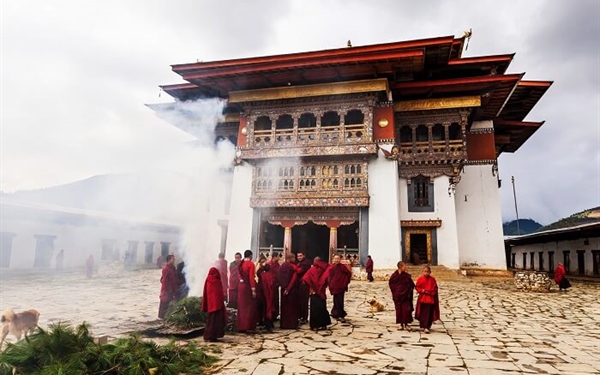 (Source: Travel Triangle)
By Pema Seldon | The Bhutanese
When Bhutan first opened its doors to tourism in 1974, only 287 tourists had the privilege of visiting the Kingdom.
Known for its pristine environment and unique culture, the number of international tourists rose quickly to 17,599 in 2007. A decade later, the figure soared to 46,047 in 2017.
Concerned that mass tourism would bring about adverse impact on Bhutan's largely unspoilt environment and society at large, the Bhutanese government advocated 'High value, Low impact tourism'.
Unlike most other countries where one can just purchase an air ticket, get a visa upon arrival and travel independently, all international visitors to Bhutan would have to apply for a visa (usually via a tourist agency).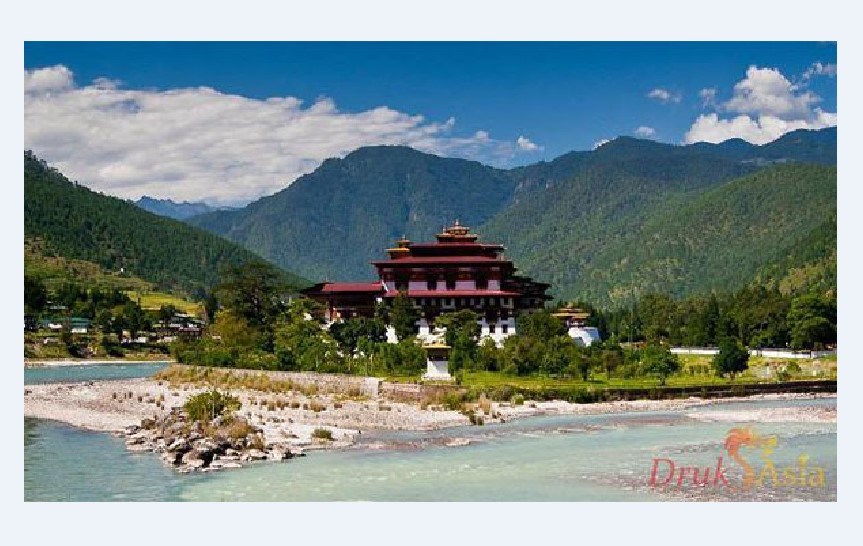 Tour packages offered by travel agencies cover the daily tariff, licensed tourist guide fees, ground transportation, entrance fees to places of interests, food and lodgings. 
Photo: Druk Asia
On top of that, almost all travellers must take a pre-paid tour package and be accompanied by a tour guide. Moreover, there is a minimum tariff of USD 250 (spring and autumn) and USD 200 (summer and winter) per person per day, levied on international tourists.
The daily tariff covers all meals, a minimum of 3 star accommodation (4 and 5 star will require an additional premium), a licensed Bhutanese tour guide, all internal ground transportation, camping equipment, haulage for trekking tours as well as all internal taxes and charges.
The sustainable development royalty fee of $65 will be used for social welfare of the country.
In fact, this tariff played a role in making Bhutan a sustainable tourist destination. In 2018, the country won the Earth Award at the Sustainable Tourism Top 100 Awards Ceremony at the International Tourismus-Borse (ITB), held in Berlin.
Who are the regional tourists?
One major source of worry for Bhutan's tourism industry is the spike in the number of regional tourists visiting Bhutan in the recent years and its negative impact.
Citizens of India and Bangladesh and the Maldives are considered as 'regional' tourists and they do not require any pre-approved visas to enter Bhutan.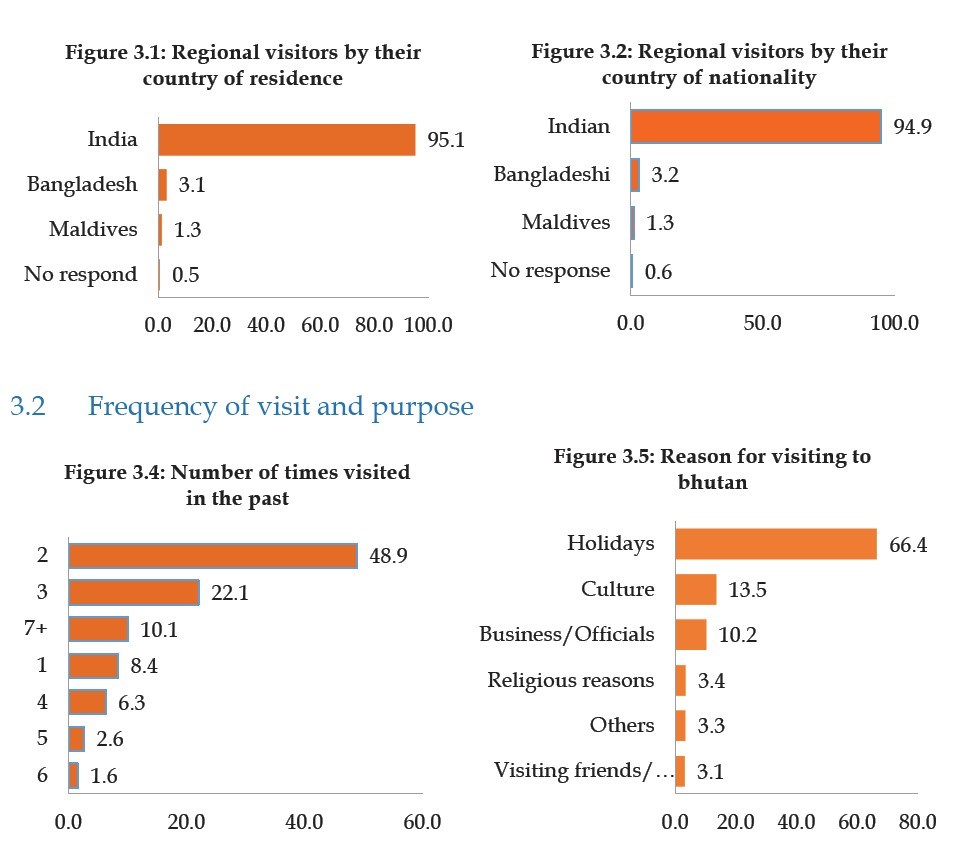 Photo: Bhutan Tourism Monitor 2017
A visa (free-of-charge) will be granted upon arrival at the entry ports. This exemption has been given by the Royal Government of Bhutan to Indian, Bangladeshi and Maldivian nationals.
All other tourists are regarded as 'international' tourists and are subjected to a daily tariff of USD 200 – 250 per person per day, depending on the season.
According to the information provided by the Tourism Council of Bhutan (TCB), the provisional number of total tourist arrival in 2018 was 274,097, a growth of around 8 percent over 2017.
Of the total arrivals, 202,290 were regional tourists and 71,807 were international tourists who came for leisure, official, business and other purposes.
This is compared to the 24.9 percent growth of regional tourists in 2017, 50.4 percent in 2016, 49.2 percent in 2015, 3.1 percent in 2014 and a 25 percent increase in 2013.
Based on the data, the numbers of regional tourists had increased dramatically from 2013 onwards.
2011 saw 16,418 regional tourists compared to 47,610 'dollar paying' international tourists but by the year 2015, this increased drastically to 97,548 regional tourists against 57,537 international tourists.
The regional tourist numbers then ballooned to 183,287 in 2017, with arrivals almost doubling just within two years.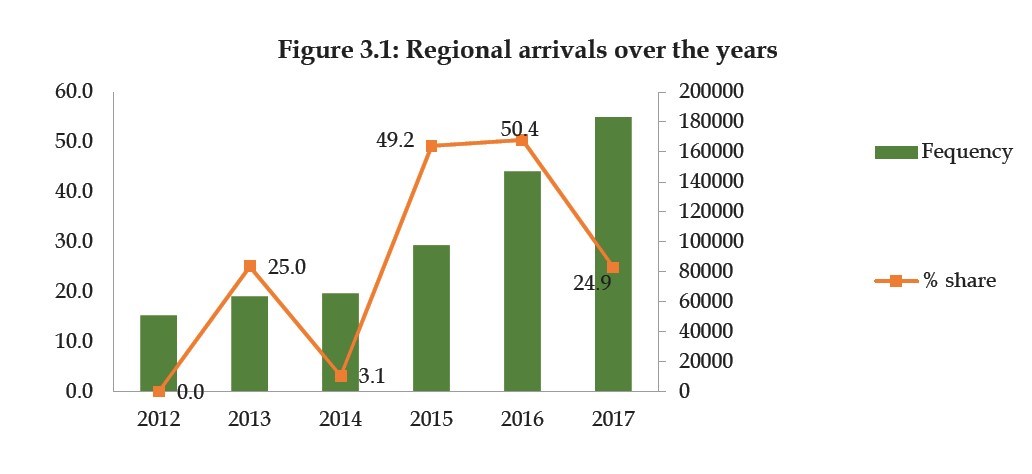 Photo: Bhutan Tourism Monitor 2017
Worried that its 'high value and low impact' tourism is under threat, Bhutan has been coming up with a number of soft policies and regulations to mitigate the negative impact.
Entry fees were introduced at various tourist attractions and online permits were set up to encourage tourists to visit Bhutan with local guides.
These measures seemed to be rather effective, as the figures from the Tourism Council of Bhutan (TCB) showed that in 2018, there was only a ten percent increase in the numbers of regional tourists.
The TCB, Association of Bhutanese Tour Operator (ABTO) and the Hotel Association of Bhutan (HRAB) say that currently, the increasing number of regional tourist arrival is not alarming.
The negative impact of unbridled mass tourism in Dubrovnik, Croatia.
Source: Youtube/France 24 English
However, they are still in favour of a new and stronger policy in order to avoid the disastrous impact of over tourism or mass tourism faced by some other countries.
Negative fallout from the vast numbers of regional tourist arrivals
Although the increase of their arrivals has softened a little in 2018, the impact of the large numbers of regional tourists is already visible and hard to ignore in this tiny Himalayan Kingdom.
This is evident with many regional vehicles visible on Bhutan's highways, worsening traffic jams while encroaching on the already limited parking spaces in Thimphu, the capital city.
Needless to say, there is also worry on the strain that such huge numbers of regional visitors are placing on Bhutan's limited infrastructure: roads, water, sewage and other facilities.
There have also been issues of mounting waste and incidences of the violation of cultural and religious norms in holy places.
Moreover, with the growing crowds of regional visitors, popular tourist destinations run the risk of generating more noise.
The increase in regional tourists has also led to a huge hotel construction boom that may not be sustainable in the long run.
Need to attract more international tourists to counter the sharp rise in regional tourists
The Director General of the Tourism Council of Bhutan, Dorji Dhradhul said, "Despite numerous unparalleled tourism products and destinations, the number of international tourists visiting Bhutan is lower, compared to regional tourists.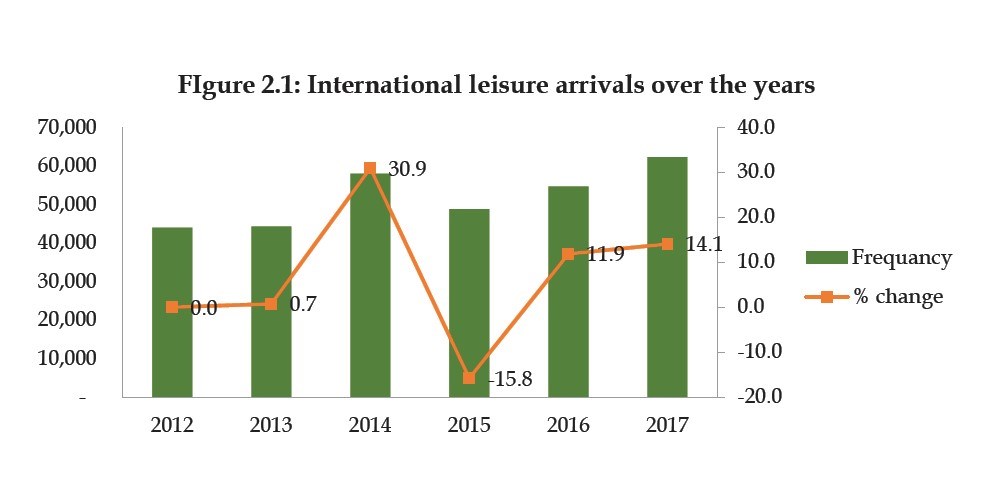 Photo: Bhutan Tourism Monitor 2017 
"This is because we lack promotion at international levels and not much has been done to attract tourists. So if we want the number of international tourists to increase, firstly we should promote tourism at the international level."
He added, "With the vision to take tourism to the top, the Tourism Council of Bhutan will now focus on 'high volume and high-value tourism' which means that in future the number of tourists who are going to pay the minimum tariff is going to increase substantially."
"For instance, a country like Singapore receives tourists of about 15 mn annually while Bhutan which is about 53 times bigger than Singapore receives only about 200,000 to 300,000 tourists per year. So in this way, Bhutan has so much potential and if more tourists come, it will be good for us", he explained.
Imperative to maintain good quality travel services for tourists
A tour operator and spokesperson from the Association of Bhutanese Tour Operator (ABTO) Tandin S Wangchuck said, "We should not be alarmed with the increase in tourists' arrival in Bhutan but instead we should be happy that there are people interested to come and visit Bhutan. What we should do as a country is to make sure that their trip to Bhutan is memorable and certain standards are maintained."
He also explained that tourism will always have both positive and negative impact but the Bhutanese should be prepared to ensure that the negative impact of tourism is always lower than the positive impact.
"Since the classification of hotels is for the dollar paying (international) tourists and because there are no policy or rules and regulations set for regional tourists, the negative impact of tourism will be higher," said Tandin.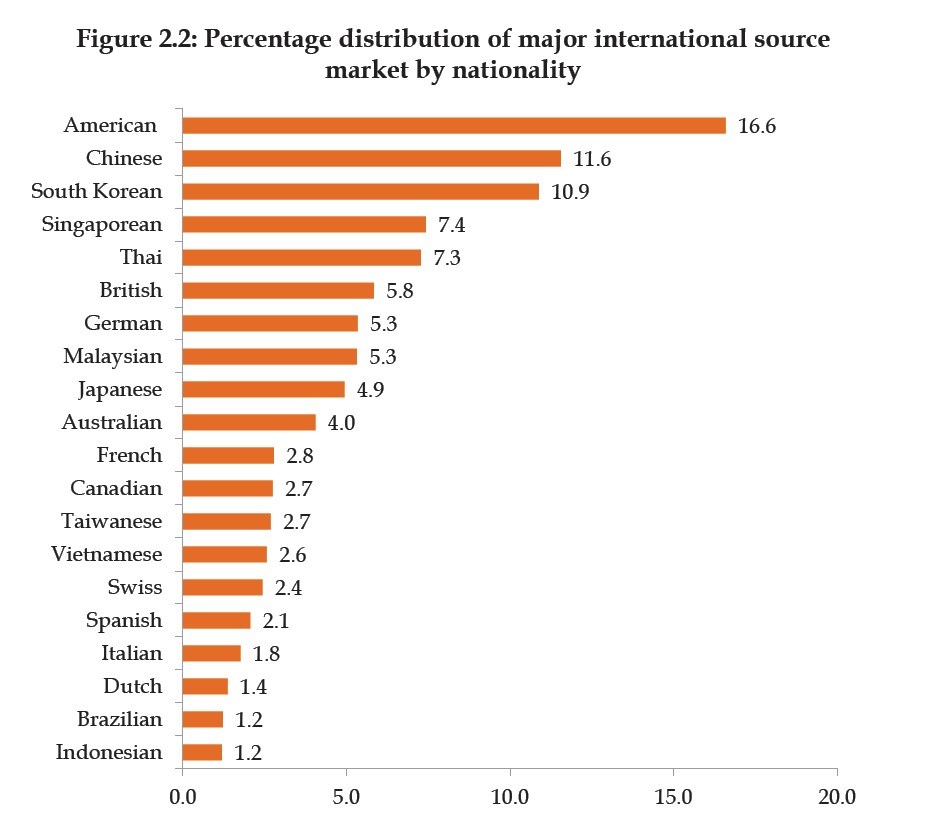 Photo: Bhutan Tourism Monitor 2017 
"Everyone should be concerned about the increasing number of regional tourists because when large numbers of unregulated regional tourists come in, it will have an impact on so many things like Bhutan's environment, culture, heritage, society and security among others. So, it is important to have a strong policy in place," said Tandin.
The onus is on Bhutan's policymakers to implement measures for sustainable tourism
Instead of blaming the regional tourists, it should be the policymakers that deserve the blame as they are responsible for carrying out a thorough study on the number of tourists visiting Bhutan over a certain period of time, but no studies have been done so far, he said.
Tandin also revealed that even though the ABTO has submitted numerous recommendations to the tourism council to come up with a new policy, there has not been much follow up.
"The past two governments tried but were more focused on the pricing of tariffs instead of developing the infrastructure," he added.
What the hoteliers in Bhutan say about the spike in the numbers of regional tourists
While the tour operators are worried about the high numbers of regional tourists, the hoteliers have a different view.
Jamyang Khyentse, a hotelier said, "We work with regional travel agents, especially in India and a few in Bangladesh. Regional tourism is booming in Bhutan and I see this as a good thing for us because it is a sign that we have good diplomatic relations with our neighbouring countries."
Another hotelier said, "In places like Thimphu and Paro, more budget hotels are coming up which shows that the number of regional tourists visiting Bhutan is also increasing because regional tourists come in huge numbers and it is the regional tourists that contribute more to our national revenue."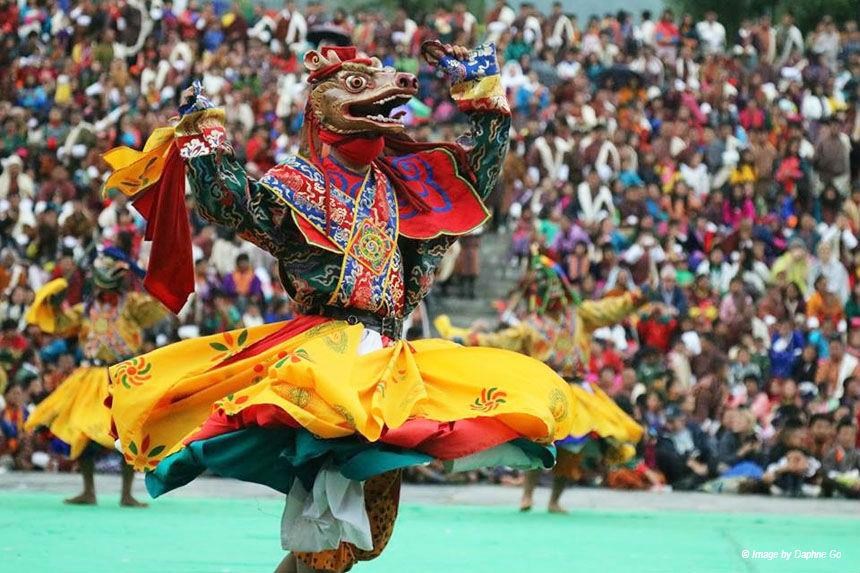 Flamboyant masked dances are highlights of Bhutan's tshechus (festivals).
Photo: Daphne Go/Druk Asia
"Increasing number of regional tourists is good for us because when large groups of regional tourists come in, especially during tshechus (festivals), most of the hotels that are left almost vacant get occupied and during off-season when few tourists come, it affects hoteliers, with many having difficulty in repaying the loans," explained the hotelier.
Karma Lotay, another hotelier said, "The number of regional tourists that we receive at present is not alarming but in future, it can be a concern if we do not regulate it as it can impact Bhutan's status as a high-end destination."
If matters do get out of hand, financial institutions like banks should intervene and stop providing loans for the construction of hotels and resorts, which has shot up in the recent years.
In addition to the construction boom of new hotels and resorts, even old houses and buildings are also being converted into hotels.
"This has to stop one day or it will have severe implications on us," said Karma Lotay.
This article first appeared in The Bhutanese and has been edited for Daily Bhutan.
---