A Winning Chance to Visit the Most Isolated Kingdom in the World
Participate in Druk Asia Bhutan Trivia and stand a chance to win a pair of return flight tickets to Bhutan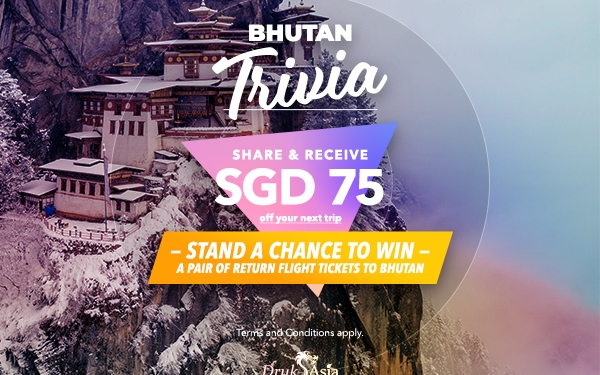 Druk Asia, a pioneer travel agency specialising in Bhutan released a Bhutan trivia to educate travellers with fun facts and travel information to the most isolated kingdom in the world. To fight the travel bug, travellers can get a glimpse into this mystical country virtually through the trivia that were released.   
One lucky winner will walk away with a pair of return flight tickets to Bhutan at the end of the campaign. Participants are encouraged to #PlayNowTravelLater.
HOW TO PARTICIPATE IN THE BHUTAN TRIVIA?
Simply log in to

www.drukasia.com/bhutan-challenge

and key in your full name and a valid email address

Complete all three trivia

Invite three friends to participate in the trivia via a personal invite link generated on the page
The trivia campaign will conclude on 30 November 2020. The lucky draw winner will be announced on all Druk Asia's social media platforms on 1 December 2020. Participate now and stand a chance to be one of the first few visitors to check out this once isolated amazing Kingdom when tourism resumes.
Follow Druk Asia's facebook and instagram for travel updates and winner announcements. 
Chime Lhakhang aka Fertility Temple in Punakha. Photo Credit: Druk Asia
The coronavirus pandemic has cost global tourism billion dollars of loss in revenue. While tourism is gradually returning in some countries, many other countries will see a slower reopening of tourism activities.
Kingdom of Bhutan, Lonely Planet Top Destination for 2020, is currently still on a tourism standstill. The Tourism Council of Bhutan initially projected around 324,000 tourists to visit the country in 2020 but only around 22,000 tourists had visited Bhutan until early March prior to the closure of the borders. 
Bhutan has been lauded as one of the countries who is handling the COVID-19 pandemic well due to its swift response. The government implemented the borders closure immediately upon the discovery of the first imported case from a tourist visiting the country on 6 March. There is also a mandatory 21-day quarantine for returning Bhutanese into the country. Safe distancing measures and COVID-19 plans were also executed promptly throughout the country with His Majesty The King at the forefront of the efforts.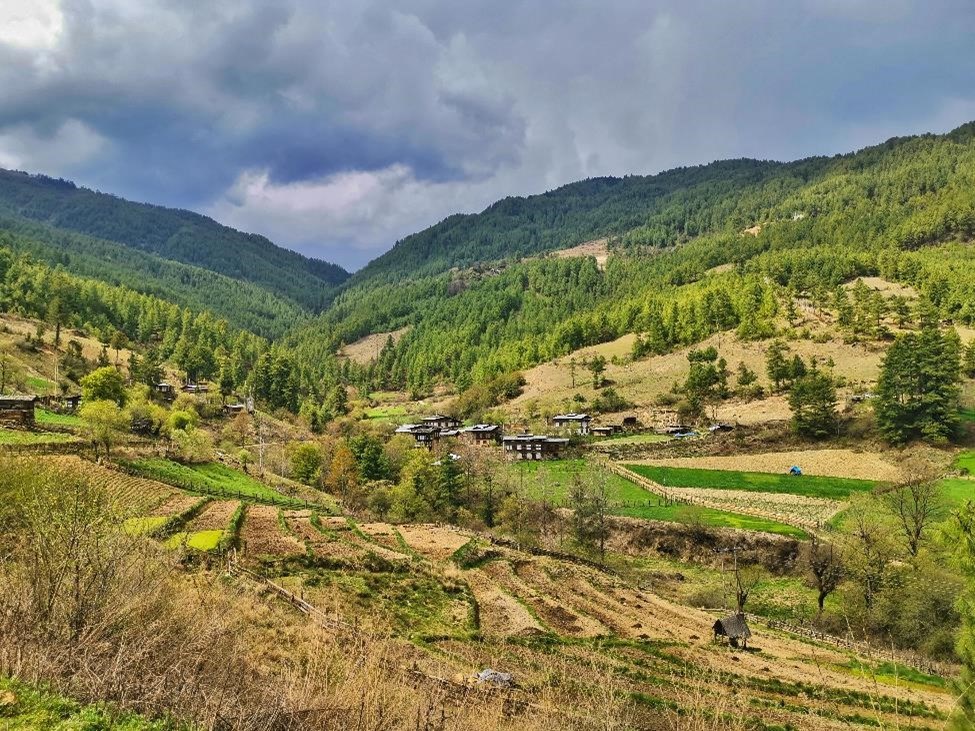 Lush greenery of Bumthang valley. Photo credit: Druk Asia
The tourism sector is one of the country's main sources of income alongside agriculture and hydropower. With tourism currently on halt, many locals in the industry were rendered jobless. However, many Bhutanese spent this time adapting to the new norm by venturing into different fields such as farming. Many tour guides also participated in meaningful initiatives within the country such as becoming a 'Desuup', a Guardian of Peace – an initiative to promote volunteerism that is the brainchild of the current King. The Desuung Programme is a national disaster management and preparedness programme that seeks to inculcate the values of civic-mindedness and responsibilities within the citizens.
In preparation for the reopening of tourism to Bhutan, the Tourism Council of Bhutan will be focusing its efforts on promoting the country as a wellness and well-being destination. TCB is also currently working on a proposal to establish a Tourism Bubble that may be implemented from March 2021. With social distancing being the new norm, Bhutan will be one of the countries that has no issue in implementing physical distancing due to its luxury of space. With a land area of 38,394 km², Bhutan has one of the lowest populations in the world at just around 770,000 people.  
Bhutan is a year-round travel destination that has much to offer to different kinds of travellers. From venerable pilgrimage sites such as Taktsang Monastery or popularly known as Tiger's Nest Monastery, the country's most iconic site to gorgeous Himalayan mountains, travellers will never find themselves out of activities in Bhutan. The centuries old majestic fortresses and traditional local tsechu (masked dance) festivals are also prominent highlights of the country.  Whether you are an adventure junkie, spiritual seeker, foodie, avid hiker or simply indeed of an escapade, Bhutan will always be readily accessible to cater to your travel needs.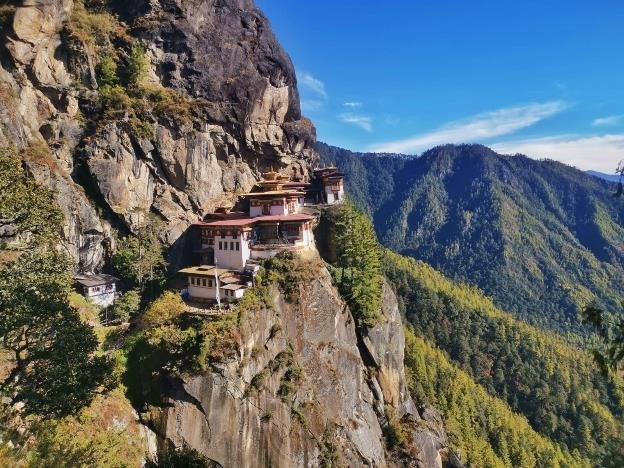 The icon of Bhutan - Taktsang Monastery aka Tiger's Nest. Photo credit: Druk Asia
All tourists are required to book their trips through a licensed tour operator such as Druk Asia. Drukair offers direct flights to Bhutan from 5 Asian countries including Bangkok, Thailand and Singapore.
For many travellers, Bhutan is definitely on top of their bucket list and stepping foot into the Land of Thunder Dragon is akin to a dream come true. For a place with so much character, deep spirituality, strong cultural identity and breathtaking landscapes, it is truly no surprise when travellers say that Bhutan is a country like no other. Some went as far as to claim it as the last Shangri-la and a lost paradise on earth.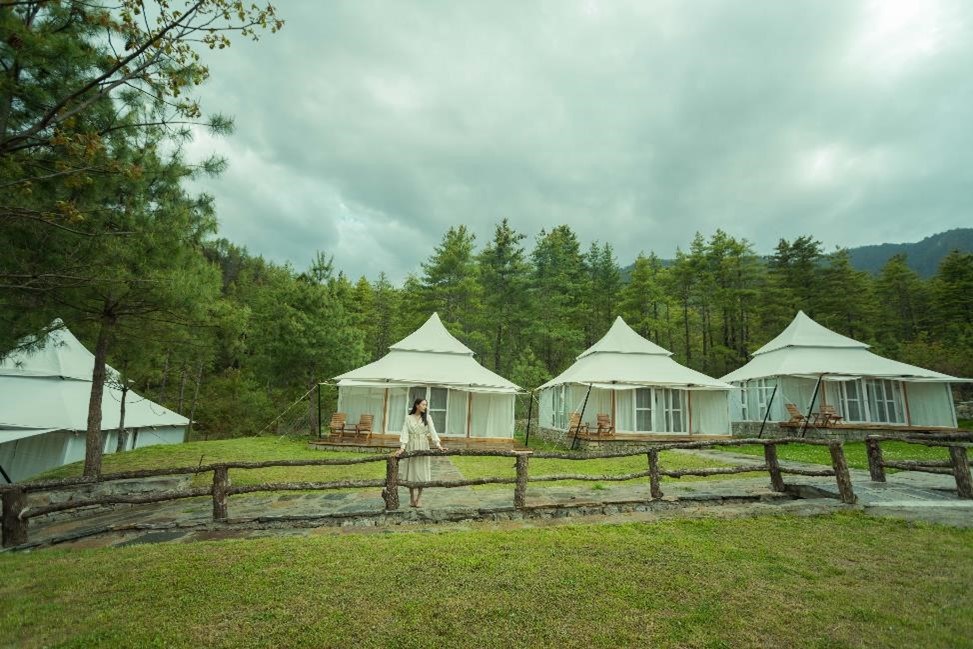 For those who are in need of a trip to clear your mind, relax your body and rejuvenate your soul after the pandemic, check out the 7-day Bhutan Glamping tour package to indulge yourself in this ultra-luxurious glamping experience in Bhutan. 
There is truly no better place than the Kingdom of Bhutan to catch a breath of fresh air when global tourism returns. For now, the best we can do is to learn more about this fascinating country through the Bhutan trivia and pray that we will get to visit this enchanting country soon. Bhutan has always been one of the most exclusive travel destinations in the world.
Click here to participate in the Bhutan Trivia. #PlayNowTravelLater
---
---