7 Vegetables You Must Try While Visiting Bhutan
Read Tashi Choden's blog on the vegetables to try if you ever visit Bhutan.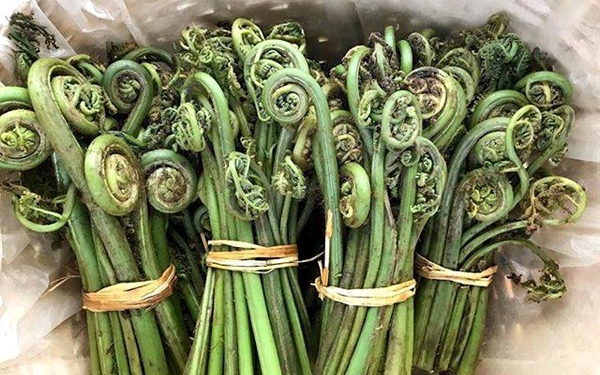 (Source: Facebook/Padma Lakshmi)
By The Druk Girl
With its carbon negative status and pristine environment, a trip to Bhutan would not be complete if you leave without sampling some of its organically grown vegetables. Here are some vegetables you must try while you are in the Land of the Thunder Dragon:
1.Bamboo Shoots (Pacha)
Grown naturally in the higher altitudes of Bhutan's forests, you can be assured that the bamboo shoots are of the freshest quality. Sometimes eaten as a preserved pickle or condiment, bamboo shoots can also be boiled with milk to make a thin soup called 'Jaju'.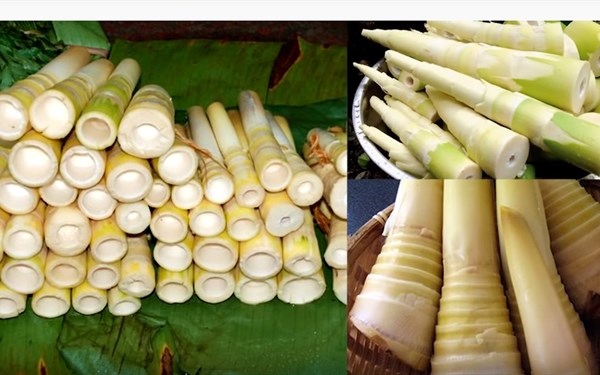 Photo: Youtube/Chakma Cooking: bamboo shoots
While it might taste a tad bitter, the soup is packed with many health benefits. The season for picking bamboo shoots typically starts from spring to monsoon, so you if happen to visit Bhutan around this time, you should definitely try some Jaju.
2.Fiddlehead Fern (Nakay)
With its striking resemblance to the curled ornament found at the end of a stringed instrument such as a violin, it is no wonder that this plant is called a Fiddlehead fern or 'Nakay' in Bhutan.
Found in the wild, Fiddlehead ferns can usually be foraged from spring till the monsoon season.
The furled fronds of a young fern are harvested early in the season, just before they open and reach its full height.
 Source: Youtube/The Outsider
Packed with antioxidants, fiddlehead ferns are a rich source of omega 3 and 6 fatty acids, iron and fibre. With its firm and unique texture, fiddleheads are versatile and can be cooked in a variety of styles in Bhutan. Whether it is fried, steamed, boiled or stewed with meat, Nakay is a truly enjoyable dish you must not miss.
3.Bhutanese Spinach (Hantshey)
Bhutanese spinach, also known as 'Hantshey', has bigger stems compared to its counterparts from other regions of the world.
Grown in all seasons, the spinach is normally eaten half or fully boiled, which helps it retain its vitamin C. It is also used to make a soup called 'Jaju'.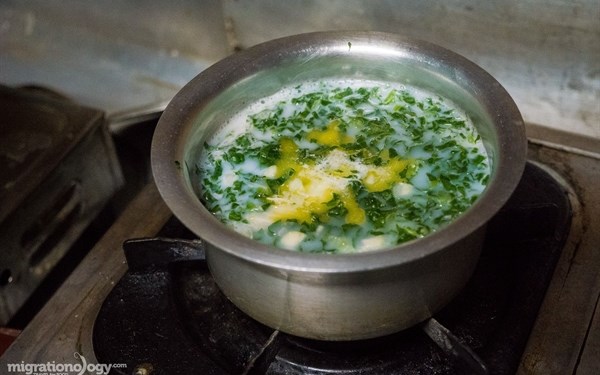 Jaju is Bhutanese milk and vegetable soup. It is often made with local spinach or any other leafy vegetables. The soup broth consists of milk and butter. Overall, the taste is usually quite mellow but it goes well with a full Bhutanese feast. You can add more cheese to make it heartier and richer in taste.
Photo: Migrationology
4. Mushroom (Shamu)
Bhutan is home to many varieties of mushrooms, many of them found in the wild, at high altitudes.
An example of a prized mushroom is the Tricholoma Matsutake or 'Buddha Mushroom', which is of the same species as the Japanese Matsutake.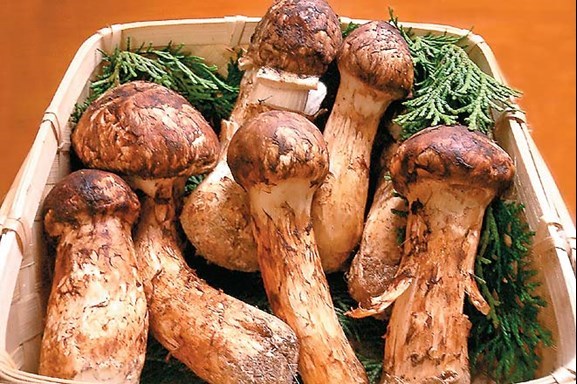 Photo: beta.outlooktraveller
'Shamu Datshi' is a popular dish of mushroom cooked with cheese and often eaten with Bhutanese red rice.
5. Bittergourd (Khatem)
Although its bitter taste might not go down well with some, it is nevertheless a fascinating dish to try while in Bhutan.
Often sliced into thin chip-like pieces, the bittergourd is then fried with butter and seasoning, Khatem goes well with rice and meat dishes and can sometimes be eaten as a crispy snack on its own.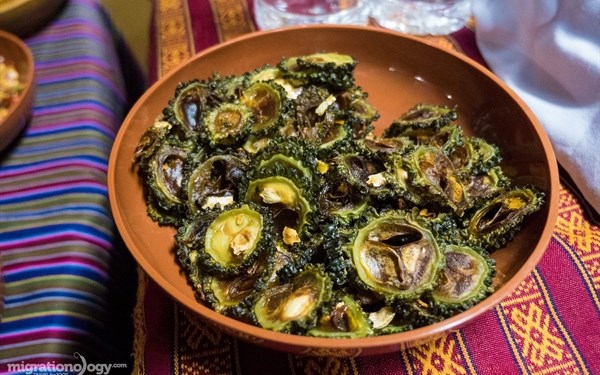 Photo: Migrationology
With many health benefits, you can even make khatem juice by adding some honey or lemon to mitigate its bitterness. Bittergourd is known to contain an insulin-like compound called Polypeptide-p which has been shown to control diabetes naturally.
6. Chilli Cheese (Ema Datshi)
You can't say you've been to Bhutan if you have not tried 'Ema Datshi' or Chilli cheese, which is arguably Bhutan's national dish. To the average Bhutanese, a meal without chillies will be 'bland and boring'.
Harvested around spring till the end of the monsoon season, chillies are also dried and stored for use in winter. This ubiquitous vegetable can be found in almost every dish in the Bhutanese kitchen.
Source: Druk Girl
Dried chillies act as wonderful complements to meat dishes too, such as the Shakam Paa – a delectable dish made of dried beef, dried chillies and sometimes slices of radish.
7. Elatostema Lineolatum (Dumroo)
Elatostema Lineolatum is one of the most famous wild leafy vegetables found in Bhutan. It is regarded as a 'traditional' vegetable and the Bhutanese have been consuming it for its medicinal properties.
Sold in bundles at local markets, Elatostema Lineolatum is also known as 'Dumroo' in Bhutan and is available all year round.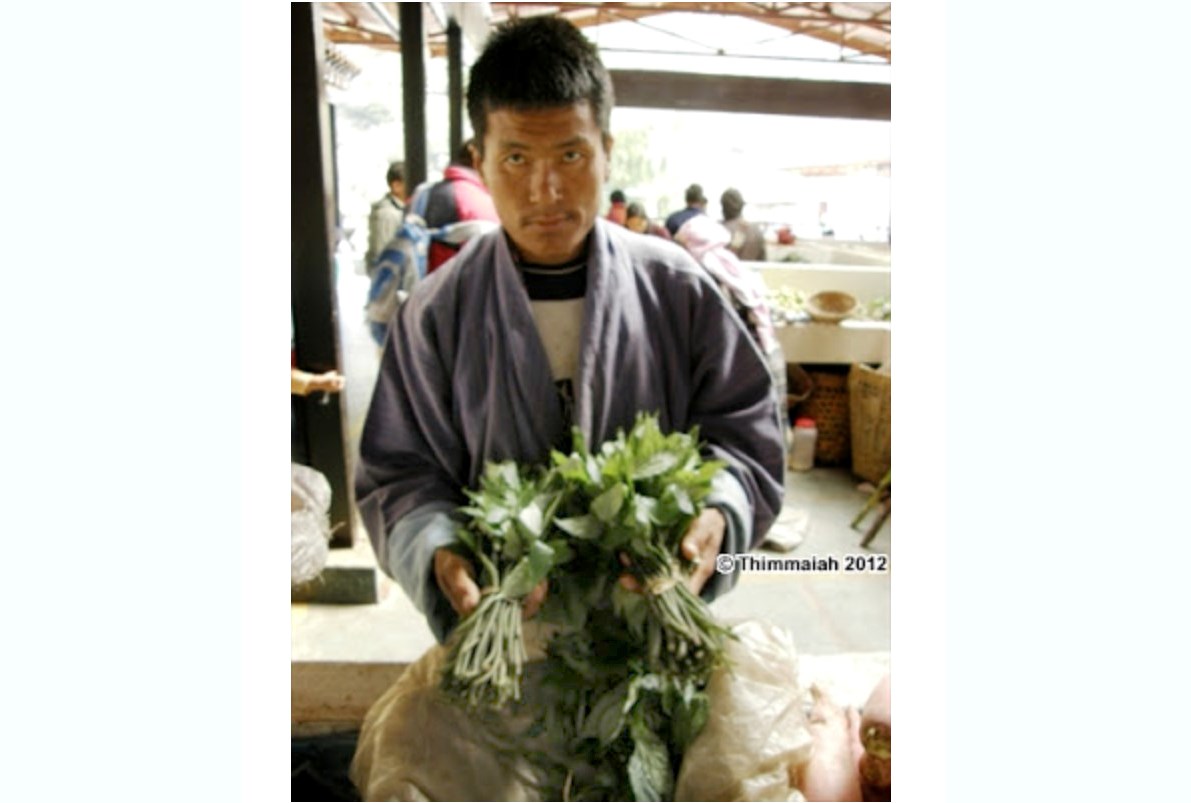 Photo: Thimmalah
With its mild taste and root beer-like aroma, dumroo is often made into a soup and eaten during the winter months, to relief bodily aches.
Its tender young shoots and leaves can also be made into appetizers, or sometimes cooked with chillies, onions, cheese and meat.  
This article first appeared in The Druk Girl and has been edited for Daily Bhutan.
---