5 Things To Do in Bhutan During Winter
Winter is here and this is what you can do in Bhutan if you're in the country during the cold season.
(Source: Bhutan Times)
By Kinley Yangden | Bhutan Times
Winter is officially here. Thimphu experienced its first snowfall on Dec 18, which was considered early this year and surprised many locals.
As the temperature plummets, don't let the season bring you down - this period brings about new experiences and areas to enjoy in Bhutan.
Here are some things to do here during winter:
1. Catch a glimpse of the rare black-necked cranes
Black-necked cranes are considered as holy messengers to the Bhutanese and their arrival from Tibet spells good news for farmers. They are said to circle the Gangtey monastery three times clockwise when they arrive from Tibet and another three times before they head back. They are an auspicious symbol and can be seen on wall murals and paintings throughout Bhutan.
The cranes congregate at Phobjikha valley in Wangdue district from end November till late February. The Royal Society for Protection of Nature has set up a crane visitor centre for tourists to view the cranes from afar and keeps track of the number of migratory cranes that come to Bhutan.
To commemorate the arrival of the cranes, a Black-Necked Crane Festival is held at Gangtey Monastery every November. 
A visit to Bhutan during the winter period not complete without a visit to Phobjikha to see the cranes.
2. See the snow clad peaks of Bhutan from Dochula Pass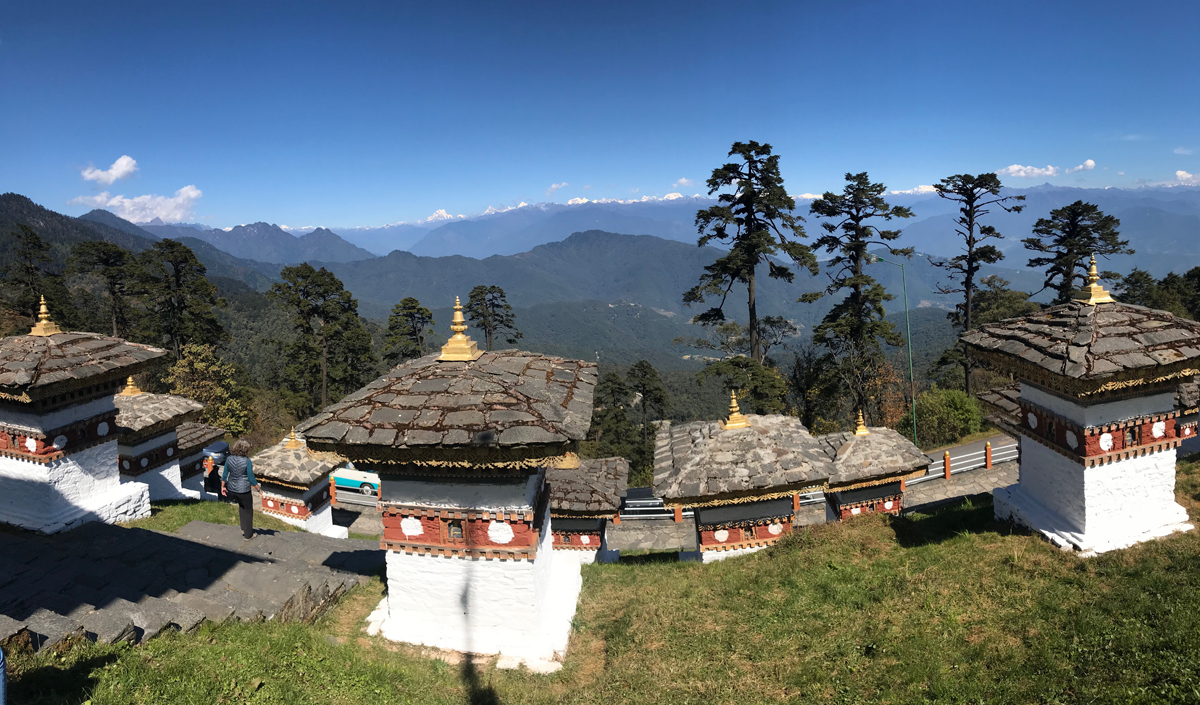 Photo: Bhutan Times
Winter is the best season to head to Dochula Pass, a mountain pass located at 3,100m elevation and 20km from Thimphu.
During this time, the skies are clear and blue, and this is when the majestic Himalayan ranges are on proud display in the background. Most of Bhutan's tallest peaks can be seen from Dochula Pass, such as the sacred Mount Jomolhari and Bhutan's highest mountain Gangkhar Puensum (7,570 meters), among others.
Dochula Pass is also home to a famous landmark: the 108 Druk Wangyel chortens, and the Druk Wangyel temple. Every December 13, a Druk Wangyel Festival is held behind the temple at the festival grounds. This festival is unique and different from other festivals in Bhutan as it is held in the open with the Himalayan ranges as a backdrop. Unlike other festivals where monks would perform the dances, most of the dances at the Druk Wangyel Festival are performed by the Royal Bhutan Army, after several months of practice.
Dochula Pass is a pit-stop for many tourists who are making their way from Thimphu to Punakha. During other seasons, Dochula Pass tends to be cloudy and misty. So if you happen to be in Bhutan during winter, stop by Dochula Pass and spend some time here to soak in the beauty of the Himalayas. Also, it looks splendid after snowfall too.
3. Head to Bhutan's old capital, Punakha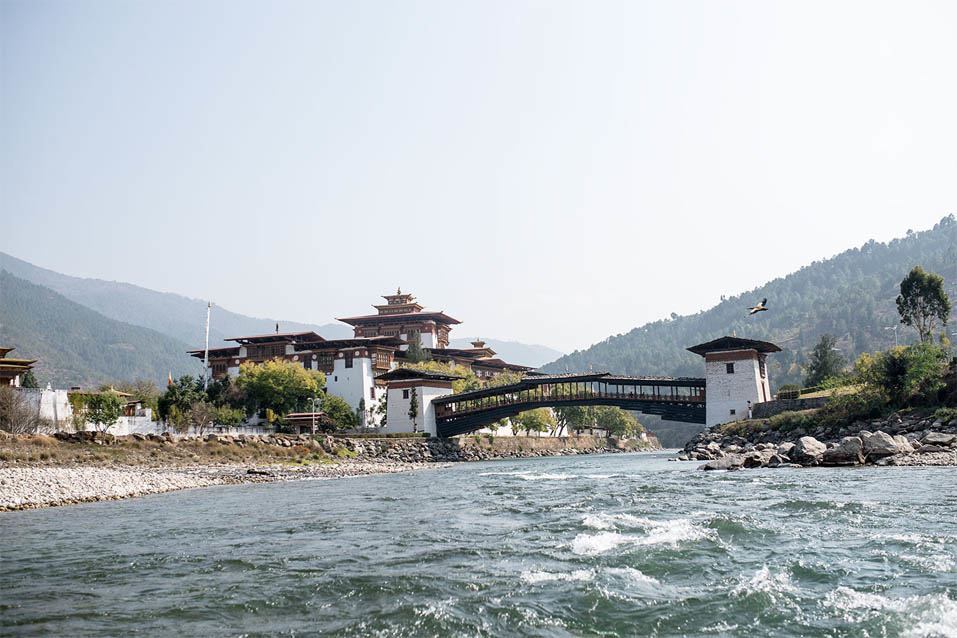 Punakha Dzong. (Photo: Druk Asia)
Punakha district sits at an elevation of 1,200 metres, making it less cold compared to other parts of Bhutan. It may be a good idea to escape to Punakha for a day or two for some reprieve from winter.
Punakha is Bhutan's old capital and was the seat of the government until 1955, before the capital was moved to Thimphu.
One of the most significant sights here is the 17th century Punakha Dzong, which many have described as one of the most beautiful dzongs in the country. Besides its magnificence and beauty, Punakha Dzong is important in its historical value: it was built by the founder and unifier of Bhutan, Zhabdrung Ngawang Namgyel, and his sacred remains are housed in the dzong till this day, it was where the coronation of Bhutan's first king took place, it houses many important sacred relics, and till today, it is the winter residence for the Central Monastic Body.
Punakha is also home to the Divine Madman, or Drukpa Kinley, an unorthodox monk who lived in the 16th century. Known for his unconventional methods of enlightening beings, Drukpa Kinley has earned the title of the "Divine Madman" or the "Saint of 5,000 women", by combining faith with sexual lewd behaviour and raunchy humour to shock people out of their traditional morality.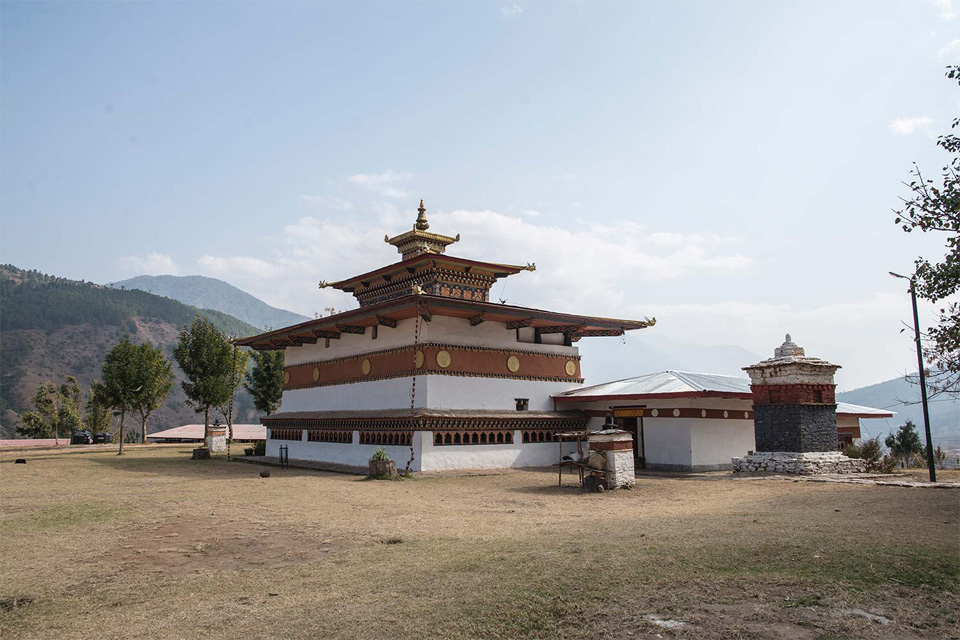 Chimi Lhakhang. (Photo: Druk Asia)
Drukpa Kinley is considered Bhutan's patron saint and is credited with introducing phallus paintings to ward of evil and for establishing the monastery Chimi Lhakhang, a must-visit for any person who wishes to head to Punakha.
4. Visit Royal Manas National Park
A trip to Bhutan is not just about temples and fortresses. While it may be too cold in winter to trek the Himalayas to stay overnight in the mountains, another option to consider is to head down south to visit Royal Manas National Park.
The park is Bhutan's oldest national park and is what the government considers as a "showpiece of conservation". Over here, it is an oasis of remarkable and diverse flora and fauna, amid a pristine natural habitat.
Some activities to do here include boating, hot springs, tropical safaris, and hiking. There are two eco-lodges here that come with kitchen, bathroom and toilet facilities, with a few other eco-camps springing up lately.
5. Take a dip at the Gasa hot springs
Photo: Business Bhutan
Hot springs can be found throughout Bhutan, but one of the most popular ones are those found in Gasa, in northwest Bhutan. Needless to say, winter is the best time to take a dip in such waters, or tshachus, which are known for its healing properties.
The hot springs at Gasa are said to be natural remedies to rheumatism, arthritis, ulcers, indigestion, skin diseases, even tuberculosis and other ailments.
Most Bhutanese visit the hot springs during winter and some even stay up to days to maximize the potential of the hot springs. Some believe that the water has stronger curing powers in the colder months and due to the cold, it's possible to soak for a longer period of time in the hot springs than during other months.
---
---