24.4 Metric Tonnes Of Waste Collected Since The Start Of Zero Waste Hour Initiative In Thimphu
Thinley Dorji believes that the situation and mind-set of people are expected to improve as they keep moving forward with the initiative.
(Source: Royal Textile Academy)
By Chimi Dema | Kuensel
Since the start of the Zero Waste Hour initiative in Thimphu, volunteers have collected about 24.4 metric tonnes of solid and organic waste.
About 731 individuals, including officials from the Office of the Prime Minister and Cabinet, members of civil society organisations, private agencies and volunteers from institutions and schools participated in four cleaning campaigns conducted in four months.
Among the waste collected, plastics constituted the highest component in all the cleaning campaigns conducted, followed by rubber, glass, clothes, wood, metal, and papers.
Source: Facebook/National Environment Commission
All the components of waste collected were segregated by the Thimphu Thromde (second-level administrative division), to be diverted and disposed subsequently.
Observed for an hour on the second day of every month through involvement of offices and institutions, the National Environment Commission Secretariat, as the lead implementing agency, aspires to achieve Bhutan's vision of a Zero Waste Society by 2030.
Aims of the Zero Waste Hour Initiative in Thimphu
In an effort to move towards this vision, the Zero Waste Hour is expected to eliminate illegal dumping of waste and inculcate behavioural change in the public towards proper waste management.
Bhutanese are also encouraged to practice sustainable consumption lifestyle, leading to a safe, healthy and clean community environment.
However, despite these efforts, the unchanged dynamics of waste collected from different areas in Thimphu in each cleaning campaign led the organisers to question the overarching goal of the event.
The Chief Environment Officer with the Waste Management Division, NECS, Thinley Dorji said that unless a detailed survey is carried out, it cannot be determined how effective the programme is in inculcating a sense of social responsibility amongst residents and communities towards proper waste management.
Source: Youtube/Stories
He also mentioned that in areas where they have cleaned during the campaign, waste is already accumulating.
"We have also noticed waste being accumulated in some private premises for years," he said.
Thinley Dorji said that landowners and residents would be made responsible to clean their premises henceforth.
"Currently, it is in our plan to coordinate with the Thromde and discuss on imposing penalty to those who fail to abide by the rule."
Rules laid out to reduce waste
According to the Waste Prevention and Management Regulation 2012, fines start from Nu 100 for acts such as littering, urinating or defecating, smearing lime and spitting doma (areca nut) in public areas.
A person is liable to pay Nu 20,000 fine for dumping and releasing waste into prohibited areas as well as dumping of industrial waste without permit, according to the regulations.
Thinley Dorji believes that the situation and mind-set of people are expected to improve as they keep moving forward with the initiative.
Curbing Greenhouse Gas emission in the long run
Meanwhile, the Assistant Environment Officer with NECS, Ugyen Tshomo said the initiative is also targeted to reduce waste generation at its source, which will help in curbing GHG (Greenhouse Gas) emission from the waste sector in the long run.
Methane emission from landfill sites as a result of anaerobic organic waste decay is a major source of man-made methane gas.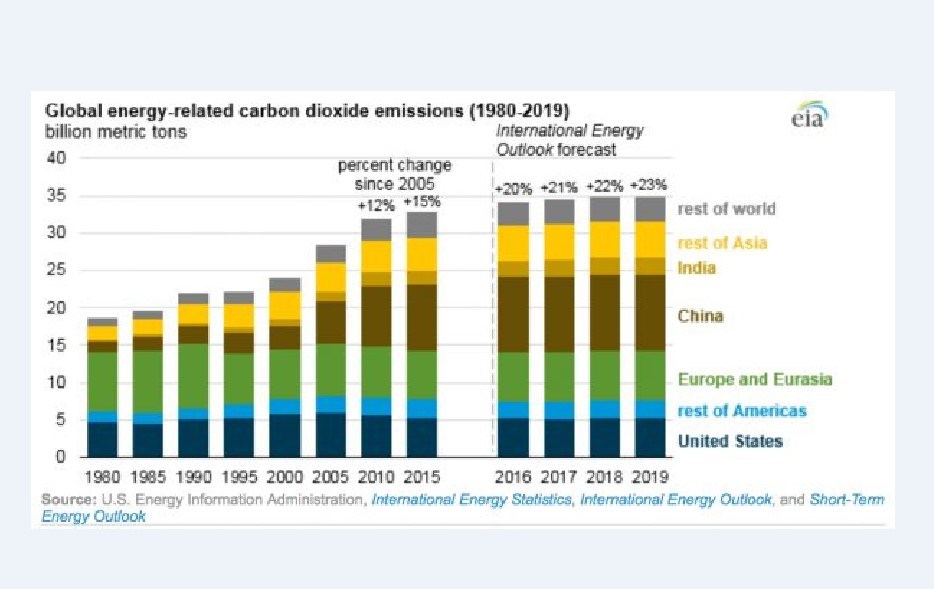 Graphic: Eidclimate.org
"Methane gas emission from the waste sector is 23 times more potent at trapping heat in the atmosphere than the common GHG, carbon dioxide and contributes to global warming and climate change," said Ugyen Tshomo.
Contribution of GHG from the waste sector has been increasing in the country since 1999, according to the National Waste Management Strategy 2019.
In fact, by 2050, the GHG emission from the waste sector is projected to increase by six times, from current 200,000 to 1.6m Gigagram.
Impact of population growth on waste accumulation
Today, Thimphu's only landfill in Memelakha collects around 40.3 metric tonnes of waste daily.
With population growth, economic activities, proliferation of non-biodegradable goods in the market as well as a change in consumption patterns in society are the factors which contributed to increased waste in Bhutan.
Thimphu's solid waste generation is projected to increase to 124 metric tonnes per day by 2027, if an estimated 200,000 people lives in the capital, according to the Strategic Environment Assessment for Thimphu's structure plan.
As of March 2017, the capital's population has reached 114,551 according to the Housing Census and Population 2017.
This article first appeared in Kuensel and has been edited for Daily Bhutan.
---
---