What People Are Saying About The Finale Episode Of Anthony Bourdain Parts Unknown: Bhutan
It was a bittersweet season finale for the late Anthony Bourdain's show Parts Unknown.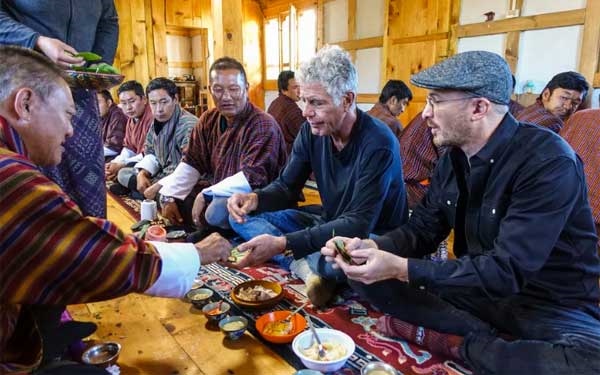 (Source: CNN Parts Unknown)
By Kinley Yangden | Bhutan Times
The final episode of Anthony Bourdain: Parts Unknown featuring Bhutan as the late celebrity chef's last destination was aired on CNN on June 24 (June 25 local time).
In this episode, Bourdain travelled the Kingdom with director Darren Aronofsky, and describes Bhutan as "a remote, relatively rarely visited kingdom of myth and legend."
Here, the duo feasted on local cuisine in Thimphu, enjoyed a meal with yak herders, tried some cordyceps, and also had a hard time keeping it together when they saw houses adorned with phallic symbols in Punakha.
Video: CNN
Video: CNN
The scenes in the episode are stunning and portray Bhutan as a tranquil, meditative environment with breathtaking sights. To some, it inspires a trip here to what Bourdain describes as a "Buddhist wonderland", but to others, Bourdain's episode might be seen as an insight into his isolation and sadness. 
'Heartbreaking'
IndieWire described the episode as "heartbreaking".
"The Bhutan-set finale of Season 11 feels like a farewell — wistful, sensitive, and rich with existential yearning, it encapsulates Bourdain's underlying ethos while burrowing into a sense of isolation from the rest of the world," reported IndieWire.
It wasn't just heartbreaking. To some people on social media, it was emotional, dark and "gutting".
geez. Last episode of #AnthonyBourdain #PartsUnknown aired tonight. I didn't think i'd be this emotional. Its kind of fitting it's in Bhutan - Buddhist teachings say death is not the end of life, it is merely the end of body, everything is a blip of transience and impermanent. pic.twitter.com/DNs6PGPeTK

— Jeremy Hall (@wicketwarwick) June 25, 2018
Bourdain and Aronofsky in Bhutan made for a interesting finale. The latter's environmentalism and vegetarianism gave the local a sense of purity. Untainted by globalization and the coming environmental disasters for now, yet a darkness looms in every frame.

— Akash Kumar (@akashkumarfilm) June 25, 2018
Watching @DarrenAronofsky & Anthony trek through Bhutan is hilarious, enlightening, breathtaking, original & enthralling, but ultimately unflinchingly gutting.

Darren's kind words are important, but it's hard not to feel the loss.

— Edward Browden (@edwardbrowden) June 25, 2018
Contemplation on Bhutan's environment, spirituality and happiness
While feasting on local dishes in Thimphu, Bourdain and Aronofsky discuss with  the 'Godfather of Conservation' Dasho Benji Dorji about their contrasting cultures and happiness.
Video: CNN
When Dasho Benji compares Gross National Happiness to the "pursuit of happiness" in the American constitution, Bourdain chuckles and comments that "we don't actually believe that", a demonstration of his ever so cynical attitude.
In the episode, Bourdain also wonders about the future of Bhutan and if opening the country to the rest of the world could be "contaminating the values of local culture."
His travel companion Aronofsky also reflected on Bhutan's environmental initiatives: "Being in a country that has so far to go in development, yet they see the dangers and they're working towards finding a balance.
"Doesn't that give us hope that maybe that knowledge can be infectious, somehow inspiring. I do have hope that people will see that and start to realise that there might be a lesson here for the rest of us." 
Video: CNN
Thinking about death
Perhaps the part that was heart-wrenching for some was the closing scene where they visited Mebar Tsho, or The Burning Lake, in Bumthang. Here, they filmed their final shot of Bourdain leaving an offering to the dead.
And on the subject of death, Bourdain also mentions the Buddhist belief on thinking about death.
"It is considered therapeutic to think about death a few times a day," he said, which on hindsight now seems like a self-fulfilling prophecy of sorts.
Final ep of Bourdain's @cnn series took him and filmmaker Darren Aronofsky to Bhutan. His narration spoke of death, of "life is but a dream" and other poignant things. It made me so sad to watch. But I'm glad I did.

— 2084Author (@LinerElaine) June 25, 2018
Director Aronofsky later wrote a reflection in CNN about his experience with Bourdain in Bhutan and mentioned about their time together at The Burning Lake.
"It seems ironic now that on our last day of shooting we performed a Bhutanese death ritual. We debated the fate of the country, the fate of the world. He was perplexed as to how mankind's endless hunger to consume could be curtailed," wrote Aronofsky.
Although many took to social media to once again express their grief of Bourdain's untimely death, some on Twitter expressed that the final episode of Parts Unknown was inspiring and that the journeys shared by Bourdain will be missed.
Watching @PartsUnknownCNN Bhutan. Sad that the unique perspective & brilliantly articulate voice of @Bourdain won't be crossing more cultural bridges & sharing his journeys. The quintessential traveler: adventurous, passionate, humble. His spirit is missed, the 🌎 less bright.

— janell (@thisisjanell) June 25, 2018
Thank you @CNN for airing #PartsUnknown tonight. It's challenging to watch Bourdain as a ghost. My heart no longer feels sad, I was inspired to travel as I saw Bhutan, the people, its future, and the incredible vistas. Thank you, AB, for giving us the world.

— Genine 🐑 (@pancakesandjazz) June 25, 2018
While it may be a challenge to watch this episode of Bourdain talk about death and spirituality, the timing of the finale is poignant and serves as an apt ending to his journey through the world and for showing us what it means to live. 
Video: CNN 
"Tony, your journeys to parts unknown will always inspire. Your shows bring the world closer together -- not by making easy similarities but by revealing how unique we all are.
"You loved the whole damn world (even the parts you despised). And the whole world loved you," concluded Aronofsky in his article.
---
---