UNICEF Set Up First Ever Early Childhood Care and Development Centre In Lungo, A Remote Village In Bhutan's Highlands
UNICEF and Bhutan's Education Ministry inaugurated the Early Childhood Care and Development Centre on April 10 this year.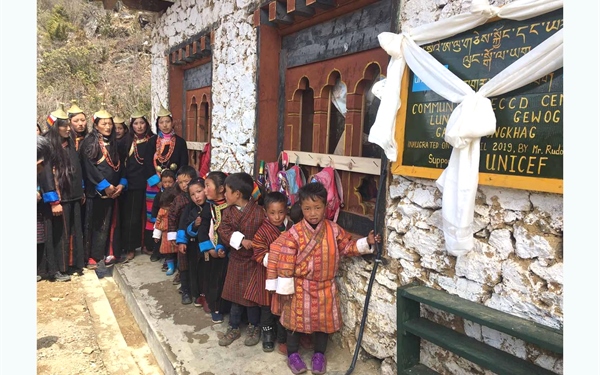 (Source: Facebook/UNICEF Bhutan)
By Tshering | Business Bhutan
In a bid to provide equal educational services and opportunities across the country, a centre for Early Childhood Care and Development (ECCD) was inaugurated early this month in Lungo, a village in Laya.
Lungo is one of the most remote settlements in Bhutan, situated at almost 4,000 meters above sea level. As there is no road to Lungo, people have to trek for two days just to get to Laya gewog and then to Lungo village.
UNICEF and Bhutan's Education Ministry inaugurated the centre on April 10 this year. Since then, more than 15 nomadic children (ages ranging from 3 to 5) from this far-flung village surrounded by snow-capped mountains and yaks, have already spent time at the ECCD centre.
This is the first time that an ECCD centre has been set-up at such a remote community, at a high altitude, where the temperature can drop to minus -6 degree Celsius even during spring time.
Purpose of establishing an ECCD centre in Lungo
UNICEF Bhutan's Representative Rudolf Schwenk said, "This is in fact a perfect example of 'reaching the last mile'. For us, every child is important. A child in Lungo should have access to the same services and opportunities as a child living in Thimphu. The establishment of the ECCD centre is a testimony to that commitment."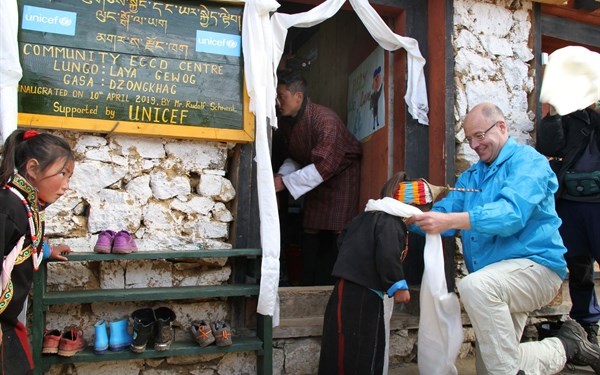 Photo: Facebook/UNICEF Bhutan
Meanwhile, the centre was built with support from both UNICEF and the local community. Since its inception, children and families come to learn, share and play together from 9am until 2pm. The centre caters to 64 households with a catchment area of three villages, including Lungo.
"We start the day at nine in the morning with a welcome song, meditation and we have a session called the question of the day. Then we have mind training which is followed by a break for learning area. And they do social activities and we have various other activities such as storytelling, nap time," Kinley Om, the centre's facilitator, said.
Pego, a 32-year-old mother to one of the children attending the ECCD centre for the first time, said that they are very happy that the children can come together, play, interact with each other and learn.
She said that the children usually followed their parents to herd yaks, moving from one pasture to another and did not have the opportunity to interact and play with other children.
"We are also so busy with our work that we could hardly give them quality time," Pego added.
Importance of early childhood education
UNICEF and the Education Ministry carried out a study on 'Early Childhood Care and Development in Bhutan: A Case for Investment' in 2017, which presented a compelling case for the need to increasingly invest in ECCD programs with emphasis on quality, equity and sustainability.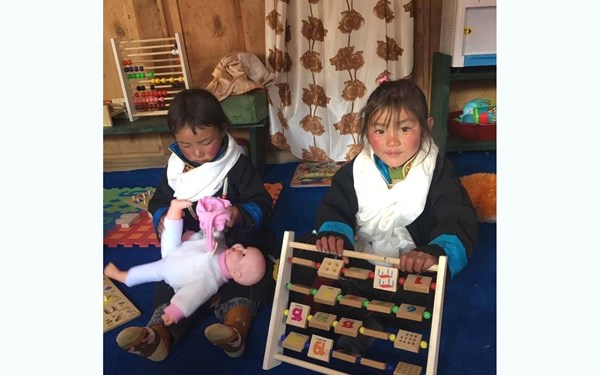 Photo: Facebook/UNICEF Bhutan
According to the report, a child's most important steps happen before they set foot in a primary school. By their fifth birthday, children's brains are already 90% developed.
"This makes a child's early years a critical window of opportunity – to set the foundations for life-long success, first at school, and later in life," states the media release from UNICEF Bhutan.
Meanwhile, ECCD services in Bhutan have increased from 3% in 2011 to more than 23% in 2018. On average, 1,000 new children gained access to ECCD centres each year in the past five years.
However, UNICEF Bhutan maintains that much remains to be done as only one in every four young children in Bhutan is enrolled in pre-primary education or ECCD centres, which is also  the case in other low-income countries.
The Education Ministry's ECCD focal person, Karma Gayleg said, "We hope to be able to provide access to 50% of all children aged 3 to 5 by 2024 and 100% by 2030. So, if we are able to achieve this target, we would have made substantial contribution to our children's development and preparation for school."
He added, "And as a nation that promotes Gross National Happiness, it is our duty to ensure that all children have a good start in life and that all children can develop their full potential."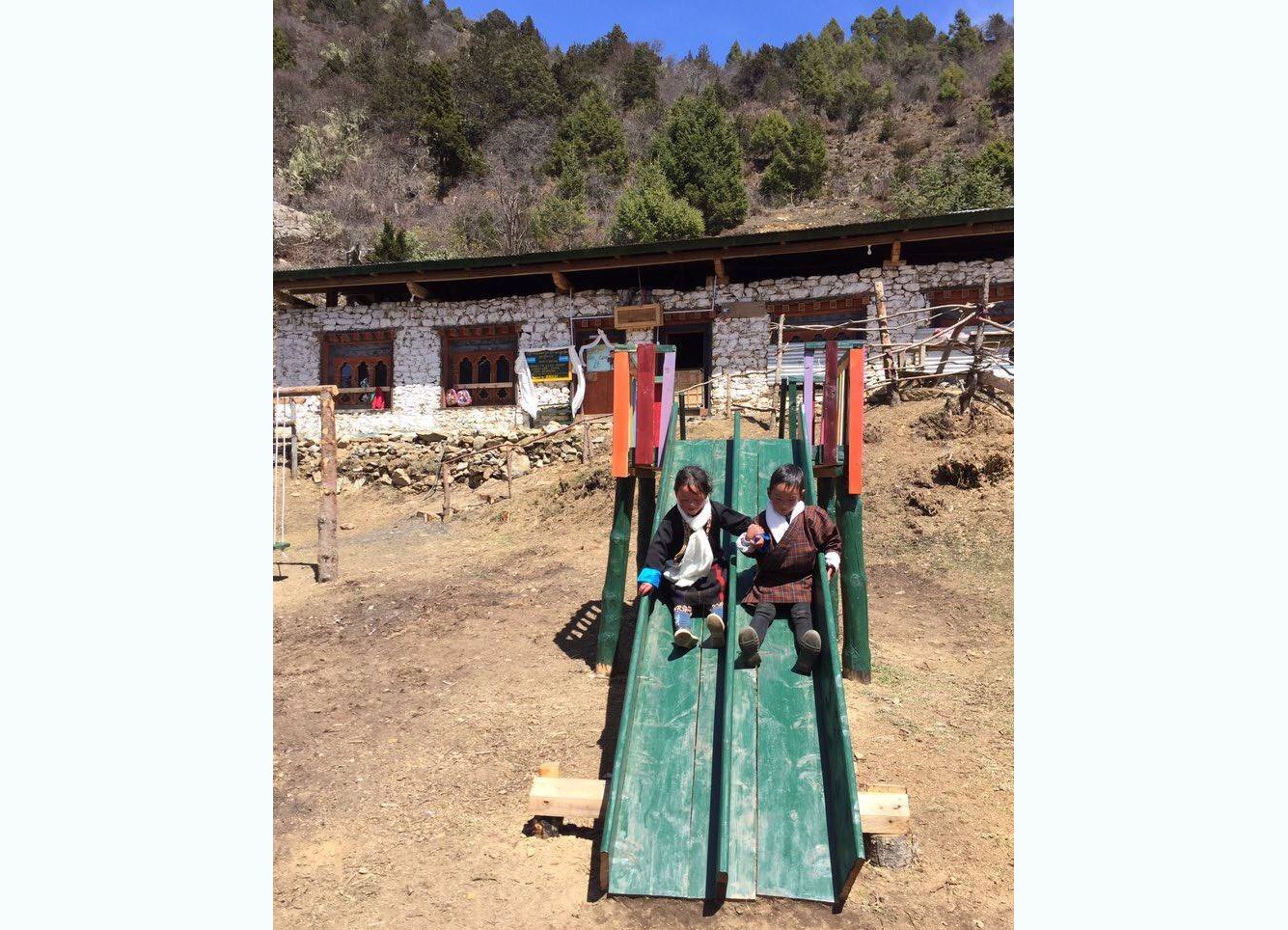 Photo: Facebook/UNICEF Bhutan
In a transformational shift this year, UNICEF in partnership with the Education Ministry is trying to set up a multi-sectoral ECCD committee and strategic plan to influence upstream policy making.
UNICEF and its partners are also exploring alternative models of ECCD and not a centre-based approach alone, in order to reach out to every child.
Rudolf Schwenk said that UNICEF will continue to work together with partners in Bhutan to ensure the best start in life for every child will not just be fulfilled in Lungo or Laya, but in every part of Bhutan.
"It is a moral obligation that children in remote areas like in Lungo have the same opportunities as the children in Thimphu or in Punakha. I think that is also very important for the future of Bhutan to strengthen its human capital, the cognitive capital for a country that has limited natural resources I think this is the best strategy and the best way to invest resources," he added.
This article first appeared in Business Bhutan and has been edited for Daily Bhutan.
---