The inspiring visually impaired boy band in Bhutan
Kuenphel Entertainment for Visually Impaired, KEVI was formed to spread happiness through music.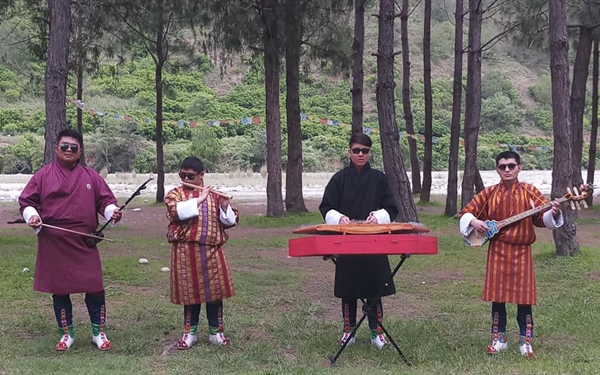 The First Visually Impaired Boy Band in Bhutan
Away from bustling Chubachu in capital city Thimphu, driving past the glories of Tashichhoe Dzong to Hejo, you'll arrive at the studio of Kuenphel Entertainment for Visually Impaired, "KEVI". The entertainment firm is the brainchild of a group of visually impaired youths in Bhutan who wanted to spread happiness through music.
The KEVI boy band comprises five energetic youths - Rinchen Penjor (Pema Gatshel) 26, Thinley Gyeltsen (Chuhuka) 30, Phub Tshering (Wangdue) 25, Dorji 24, and Sangay Kinzang (Dagana) 34 - who sing and play the different musical instruments such as guitar (dramgyen), piano and flute. Bound by their love and passion for music, they established the entertainment firm to provide a platform for others to showcase their musical talents.
The band members come from different walk of lives. Some of them have been trained to sing and play instruments at the Blind Music Training Center in Bhutan, and some have travelled to Kalingpong Music Academy in neighbouring country, India to enhance their musical talents.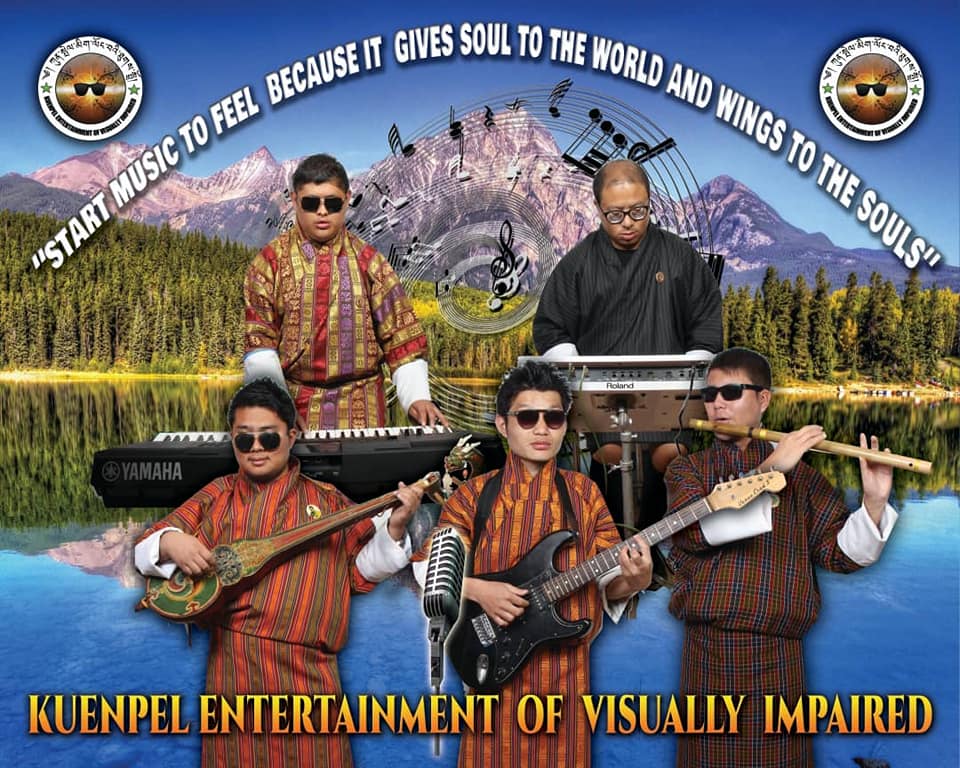 Before forming the band, some of them have participated in various singing competitions. In 2016, one of the boyband members Thinley Gyeltsen participated in "Druk Gi Kalapingka" singing contest and bagged the runner-up title. Rinchen Penjor also bagged the " Voice of Nightingale" award from the popular singing contest.
Despite their visual impairments, it did not deter them from finding their purpose and passion. The band members rehearse and practice at the studio daily whenever there's any upcoming performance.
"Music is a lifeline for us and we are looking for opportunity and not for sympathy from any individuals. We share happiness through music that will enhance your lives".
The boyband was formed in 2020 when they travelled together for a tour across Bhutan performing various songs and sharing their stories. Today, KEVI boy band can be seen performing on the national television and live musical band show at various events. The band members are currently busy rehearsing to perform for the 41st birth anniversary celebration of His Majesty the King of Bhutan on 21st February.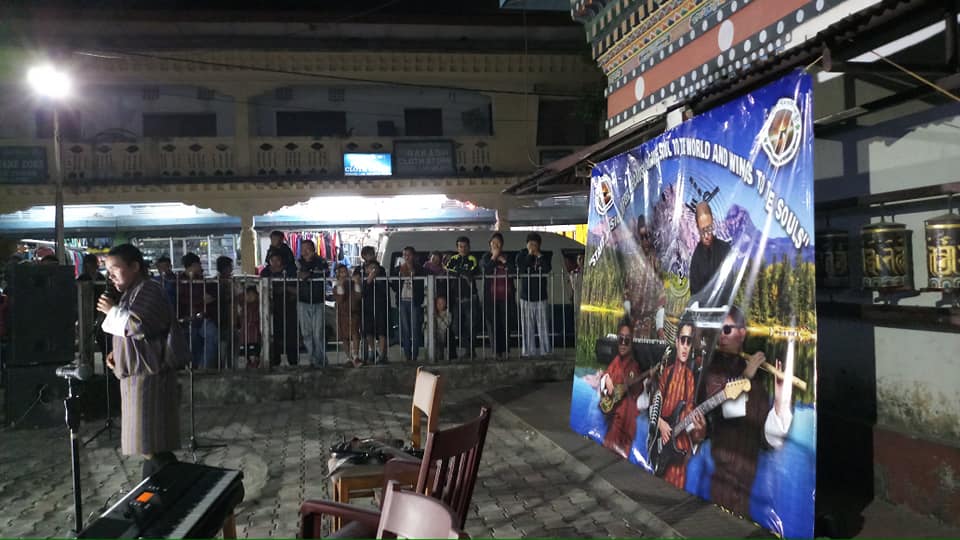 in Gelephu 
Today, less than a year after the formation of the Kuenphel Entertainment for
Visually
Impaired Boy band, they currently plan to venture into producing MTVs
.
However
, the pandemic and national lockdowns have affected their plans.
But on a positive note, the band has leveraged on
social media platforms
to showcase and entertain their fans and family by organizing LIVE Shows on Facebook and creating COVID-19 advocacy videos
.
Aside from doing musical stuff, the band also enjoys hiking (with the support of their walking sticks)
.
These talented and inspiring Bhutanese youths have shown us that we should not limit our challenges but to challenge our limitations
. As long as one has the passion and right motivations, we'll achieve great heights.
---
---