Savour Bhutan's Ema Datshi Cheese Well-Received In Local Market, Helps To Reduce Import From India
It has been observed that during the trial period, the demand was high for Savour Bhutan's Ema Datshi cheese.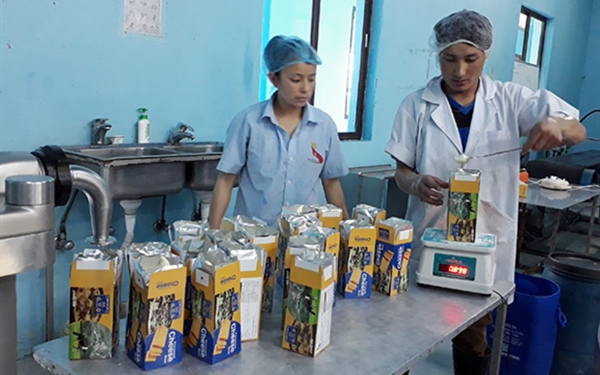 (Source: Kuensel)
By Neten Dorji | Kuensel
Offering more choices for the people, Koufuku International Limited (KIL) has launched its new product - Savour Bhutan, an Ema Datshi (Chilli Cheese) cheese in the local market.
The first local block of cheese produced at Chenary in Trashigang is a blend of Gouda and cheddar cheese.
According to officials, KIL did a market trial on April 19 and has received positive feedback.
Chief executive officer (CEO) Ugyen Dendup said that the processed cheese is vegetarian.
"While manufacturing, we use microfiche rennet derived from plants, KIL uses some ingredients to give taste. But we are trying to make it as natural as possible," he said.
Strong demand for Koufuku Cheese in the local market
People are consuming more imported cheese today. However, it has been observed that during the trial period, he claimed that demand was high, which the company was unable to meet.
Meanwhile, the factory is targeting to produce around 700 kg of processed cheese in a day, 5,000 kg in a week and 20,000 kg in a month. With improvement in the quality of the milk and a ready market, KIL targets to go on full production.
One of the consumers is Dejung Resort. Its proprietor Kuenga said that the product is better than imported cheese and tourists prefer local products.
It costs Nu. 435 for a block weighing 1 kg while the imported cheese costs Nu 450 in Trashigang town.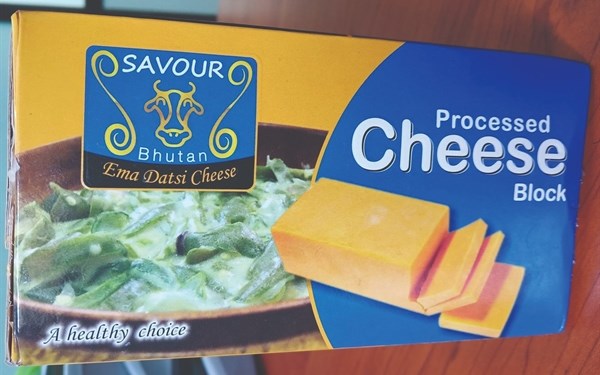 Photo: Business Bhutan
"It is presentable and the price is also reasonable compared to imported cheese."
Yeshi Zangmo, 40, who runs a business in Trashigang said that she has recently bought eight cartoons of Savour Bhutan cheese and she sold two cartoons immediately.
"It is cheaper than others, tasty and produce less oil while cooking," she said.
Every month, she imports more than 100 cartons of cheese.
"It can help us save our money, if KIL produces more processed cheese."
A restaurant owner, Tshering Dorji said that he is planning to replace imported cheese with locally processed cheese.  
"I heard that it is good and tasty."
Benefits for local farmers if demand for cheese remains strong
Ugyen Dhendup said if the demand remains strong, it can benefit the farmers directly and the rural economy will be empowered.
"If we can assure a ready market, it encourages farmers to work more and produce more, which ultimately adds to the local economy," he added.
The CEO Ugyen Dendup revealed that KIL is planning to sign a memorandum of understanding with the Food Corporation of Bhutan Limited and the Bhutan Livestock Development Corporation Limited for more outlets to sell the products.
According to Ugyen Dhendup, the country imports processed cheese worth Nu 1.6bn annually.  The import could be easily substituted if the factory produces processed cheese.
"We are going to supply the processed cheese to schools, restaurants, dratshangs (housing for the monastic body), hotels, and the Food Corporation of Bhutan Limited," he said.
He said if the company does well with this product, it will also contribute to the country's economy by reducing import. The main target of the company is to reduce the import of cheese from India.
This article first appeared in Kuensel and has been edited for Daily Bhutan.
---