Reading Culture In Bhutan Improving
The public library has initiated a mobile bus book every Saturday for an hour and every Sunday for three to four hours making books accessible to different locations in Thimphu.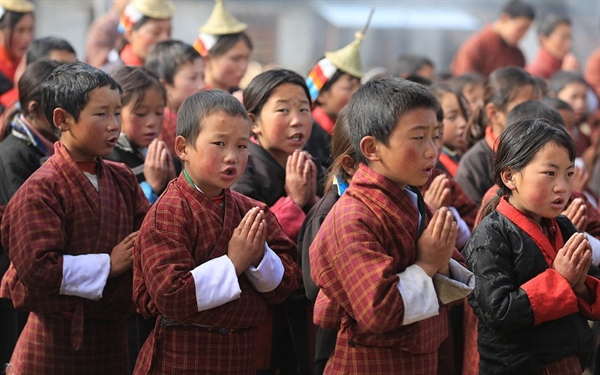 (Source: UNDP Bhutan)
The only public library in Thimphu, the capital, Jigme Dorji Wangchuck Public Library has garnered over 4,000 registered members within a span of 40 years.
Book culture in Bhutan
Since the reading year was initiated in 2013, the library and a handful of bookstores have tried to keep the reading culture alive.
For instance, Junction bookstore gets about 3 to 20 customers daily.
Although very few actually buy books, it is a popular hangout for youth.
Junction's owner, Kunzang Choki said that when the reading year and numerous awareness programs were initiated, students bought books as birthday gifts but the number of book buyers has declined for now.
"We have a small reading community, less readers but they are the voracious readers", said Kunzang Choki.
Challenges faced by the public library
The lack of infrastructure and facilities continue to be the biggest challenges faced by the public library whereas for private bookstores, the flow of customers depends on seasons causing its sales to fluctuate.
However, when there are reading activities and months marked in various schools, the book sales go up.
The book stores in town sell very limited choices of books therefore it could be one of the reasons why readers are indifferent, she said.
Kunzang Choki also added that readers do not get the books they want because a new release sells out fast and when the books do not arrive on time they end up ordering these books online.
The mobile bus book
The public library has initiated a mobile bus book every Saturday for an hour and every Sunday for three to four hours making books accessible to different locations in Thimphu.
Compared to earlier years, the library has seen an increase in its membership of students.
The library also conducts various competitions for reading, writing and drawing annually to attract readers.
"To improve the reading habits in the society, we must create new infrastructure and give a facelift to the existing ones," said the library in charge, Mr Tshering Phuntsho.
The members of the public library can suggest new books but the procuring of books is a cumbersome process and at times takes more than a year.
Ordering books from a third country is also difficult and expensive due to heavy taxation levied.
The public library attracts a minimum of 14-30 readers and a maximum of 100- 250.
Promotion of reading culture in schools
Schools are also trying to promote reading culture in their own ways.
Lungtenphu Lower Secondary School conducts a reading month annually where the students are made to read books for 10-15 minutes daily before classes start. .
The principal of Lungtenphu Lower Secondary School, Lhagay Tshering, said that the Bhutanese lack reading habits and it is a must for students to read. "It is also equally important to create awareness on the importance of reading."
Tshering Phuntsho, a class XII student of Yangchenphug Higher Secondary School feels that the reading culture in Bhutan is improving especially in schools.
"We have many activities related to literature, magazine writing, speaking and reading which directly promote reading habits," he said.
Tshering Phuntsho is an avid reader who said that he learns a lot through books that are not included in the school syllabus.
The general literacy rate of Bhutan is 66% and the youth literacy rate is 93.1% according to the National Statistics Bureau, 2017.
By Sangay Dema from Thimphu This article first appeared on Business Bhutan and has been edited for the Daily Bhutan.
---