Palang Business Grows in Khengkhar
Palang is a wooden container traditionally used to store Ara, a locally brewed alcohol. Locals of Khengkhar in Monggar are known for making palang. The age old craft has been a lifeline for many in the community for a long time.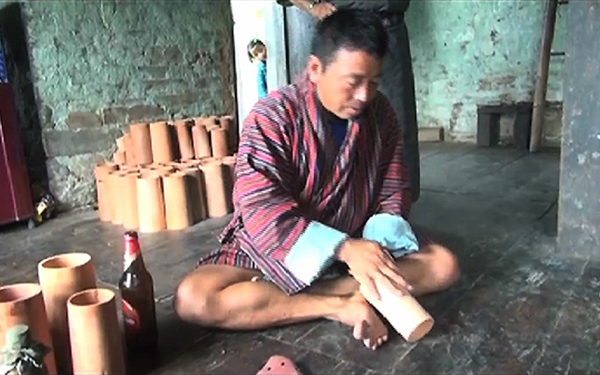 The palang making business has turned out to be good over the years. The prospects improved  after the Tarayana Foundation asked the craftsmen to work in a group.
Formed in 2011, the palang production group has fifteen members. Thirty eight years old Chogyel is one of them. He learned the art of making palang from his paternal uncle over twenty years ago.
"After the Tarayana Foundation has formed the group, I worked every day. Even if we are not able to sell all our products, Tarayana did help us to market the products."In the past, he made the containers according to demands. "I made them only when people have placed orders," said Chogyel. But the way he handled the business changed after the formation of the group.
Today, he earns about Nu 30,000 a month from the sale of palangs. It takes about a week to make one wine container.
"First, we have to cut the wood into the size of a flask. After that, we have to drill inside and then use a machine to give it a proper shape and size."
The next step is to dry it in the sun for almost a week after which the outer part of the container is painted. It is then ornamented with brass or other metals, making it an exquisite piece.
The people in the east widely use the container to store and offer alcohol to their guests even till this day. For some, it serves as a home decorative piece.
By Sonam Tschering (This article has been edited for the Daily Bhutan)
This article first appeared on BBS.
---