Menu Optimiser PLUS Tool Implemented For School Kids In Bhutan, Selected For World Expo 2020
Bhutan is the country of implementation of the PLUS tool, initiated by the World Food Programme.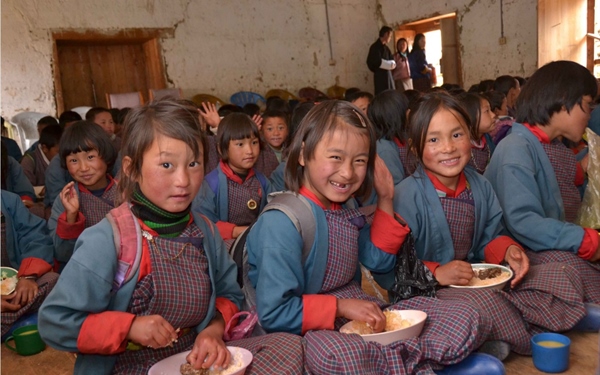 (Source: WFP)
By Staff Reporter | Kuensel
A menu optimiser tool – PLUS which was initiated by the World Food Programme (WFP) as part of the nutrition programme in Bhutan, has been selected as one of the global best practice to be showcased at the 2020 World Expo in Dubai next year.
Bhutan is the country of implementation of the PLUS tool. According to a press release from the WFP, PLUs is an online software that uses an advanced mathematical algorithm to calculate food nutrition and cost-effective school feeding menus to ensure dietary diversity based on local food.
In the absence of such tools, selection of food items in the school feeding system was mostly based on whatever food was available at the lowest price previously, stated the press release.
Merits of using the PLUS Tool
The tool would also help substitute imports by promoting locally produced food that would in turn enhance local economy while ensuring healthy food for children in Bhutan.
The menu optimiser can increase access to food for school-age children with menus that have an increased nutritional value based on a diverse range of locally grown products, stated the press release.
Source: Youtube/WFPHungerFeed
Head of office (WFP Bhutan), Svante Helms said the main objective for developing the menu optimiser tool was to address malnutrition while supporting local agricultural production.
"The tool links local farmers to schools and address unemployment issue, in line with an overall objective of increased self-reliance in Bhutan," he said.
"We support the government's initiative to enhance local agricultural development and the country's self-reliance in food production."
Director of the Department of Agriculture, Kinlay Tshering said that the impact of the menu optimiser in terms of enhancing the nutritional value and improving the proportion of locally produced food in the meals (while reducing the overall cost of school meals), will be monitored.
The press release also stated that the project is currently in a data compilation stage where information such as food prices from different sources, cropping calendar, nutritional requirements based on age group and sources of food are required.
Districts in Bhutan where PLUS will be implemented
Relevant stakeholders from the education, health and agriculture ministries will meet in November to pilot the project in the district of Trongsa by the end of the year. Based on the lessons learnt, the project will then be introduced in other districts such as Punakha and Gasa.
The tool will then be used in the rest of the country to define the amount of nutritious, (preferably local food) needed for 74,000 children who are enrolled in the National School Nutrition Programme.
This article first appeared in Kuensel and has been edited for Daily Bhutan.
---