Kadoo: Learn About Bhutan's Unique Wildlife Through An Innovative Boardgame
Kadoo: The Big Game – Explore Bhutan's Wilderness was launched on March 24, 2018 as part of WWF Bhutan's Earth Hour campaign.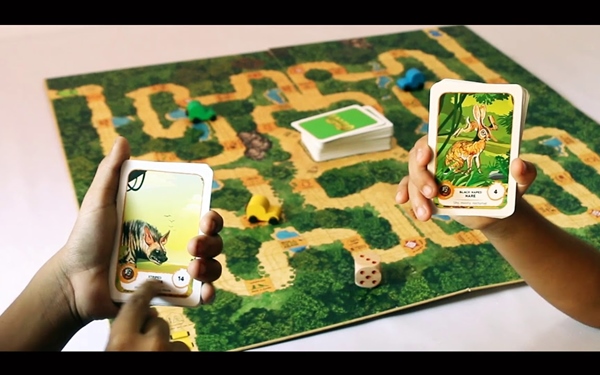 (Source: Youtube/Kaadoo)
By Sonam Pelden | Yeewong Magazine
'Kadoo'- a board game, created with the intention of bringing nature home is perfectly relevant to anyone living in the urban jungle.
From recurring news on planet deterioration to climate change, animal extinction, inequality and other large scale conflicts, people's wellbeing has never been at a greater risk.
The importance of understanding the interconnectedness that we are all part of this beautiful ecosystem and that we are all interdependent should be a critical part of our children's education.
Origins of the game, Kadoo
Kadoo was the brainchild of Krab Media and Marketing in India. The team includes Dinesh Kumble, one of India's renowned wildlife photographers, Raviraj K. Joshi, a visual communicator and a master designer, Ganesh Subramaniam, a Chartered Accountant who looks after the business operations at Kaadoo and Uday Bapu who holds a background in consulting, strategy and marketing. Their passion and vast knowledge of wildlife and nature translated into creating a fun and educational game suitable for all ages.
Krab Media and Marketing Pvt. Ltd, a game publishing company based in Bengaluru, India, expressed their interest to create and market a Bhutanese edition of their Kadoo brand of board games with WWF Bhutan in the late 2016.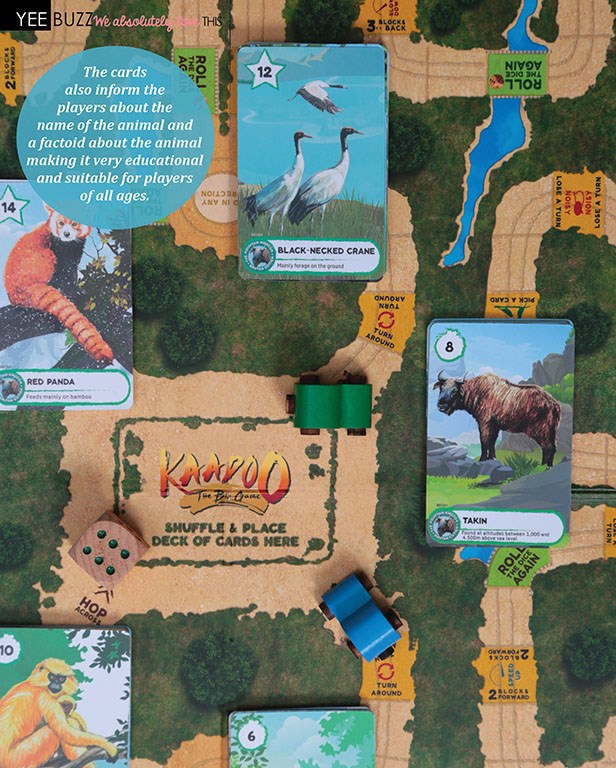 Source: Yeewong Magazine
It aimed to spread the awareness of Bhutan's wildlife and WWF Bhutan's conservation initiatives through its board games.
'Kadoo: The Big Game – Explore Bhutan Wilderness' was launched on March 24, 2018 as part of WWF Bhutan's Earth Hour campaign.
This led to the creation of Kadoo, a board game which requires four players and takes about forty-five minutes to finish a game.
What is unique about the Bhutanese version of Kadoo
The set includes a dice, 100 animal sighting cards and four pawns. Each animal sighting card has an animal and points indicated on the top left hand corner. Some cards have more points than the others, depending on how globally endangered the animal on the card is.
The cards also inform the players about the name of the animal and a factoid about the animal making it very educational and suitable for players of all ages.
The Bhutanese edition of Kaadoo – Explore Bhutan Wilderness contains Animal Sighting cards with all the animals found in the country, giving our players a safari experience of sighting animals they never knew existed in the country.
The four pawns are hand-crafted by a world renowned artist from Chanapatana using eco-friendly non-toxic paint, making them absolutely child-safe. The cards have been hand-painted and produced using excellent quality paper and ink as well.
Where can one buy Kadoo?
Kadoo is available in a few places around town such as the Junction Book Store, My Mart, Baby and Mama's world, Baby Point, Peykhang and the DSB Enterprise.
Buying this game also contributes to the conservation of wildlife in Bhutan as 3.75 % of the sales proceeds of each board game supports WWF Bhutan's Young Bhutanese Birders (YBB) Program.
It is exciting to know that the WWF has plans in the pipeline to bring in a few more ranges of Kadoo including puzzles and card games later this year.
This article first appeared in Yeewong Magazine and has been edited for the Daily Bhutan.
---