Improving Job Opportunities For Bhutan's Workforce, As Each Generation Gets Better Educated
About 8,000 people will enter the labour market every year, and most of them will be better educated than the previous generation.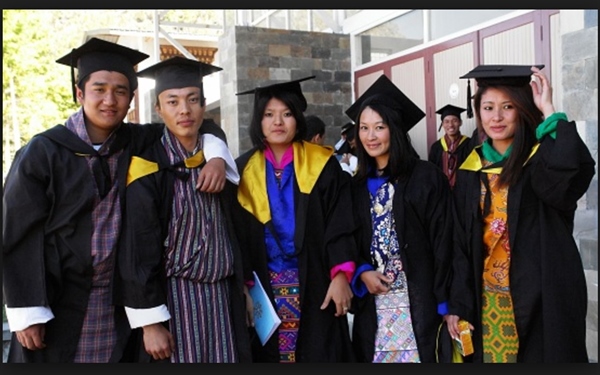 (Source: Royal Thimphu College)
By Tshering Dorji | Kuensel
Despite heavy investment in education, available jobs remain vacant and educated youth remain unemployed in Bhutan.
According to the World Bank's working paper, Bhutan Development Report, government spending on education was ramped up from 5.1 percent of GDP in 2013 to 6.7 percent in 2016.
The report states that Bhutan's spending on education is higher than her neighbouring countries, showing a significant commitment to investment in her human capital.
Youth unemployment rate in Bhutan
However, the unemployment rate for educated youth (with Bachelor's degree) stood at 67 percent in 2016, although the overall youth unemployment rate was 13.2 percent.
According to the report, Bhutan's expected years of schooling, that is, those who have completed 9.4 years of schooling by the age of 18 years, is lower than what would be expected for the country's income level.
This has been reflected in Bhutan's low gross tertiary enrolment rate compared to her neighbouring countries.
As of 2016, 63 percent of Bhutan's labour force lacked formal education and only 5 percent have completed some form of tertiary education.
Bhutan's hydropower sector hires only a tiny fraction of its labour force
Even though it is capital intensive, the hydropower sector employs only 0.8 percent of the labour force. On top of that, there is extensive use of foreign labour in hydropower construction.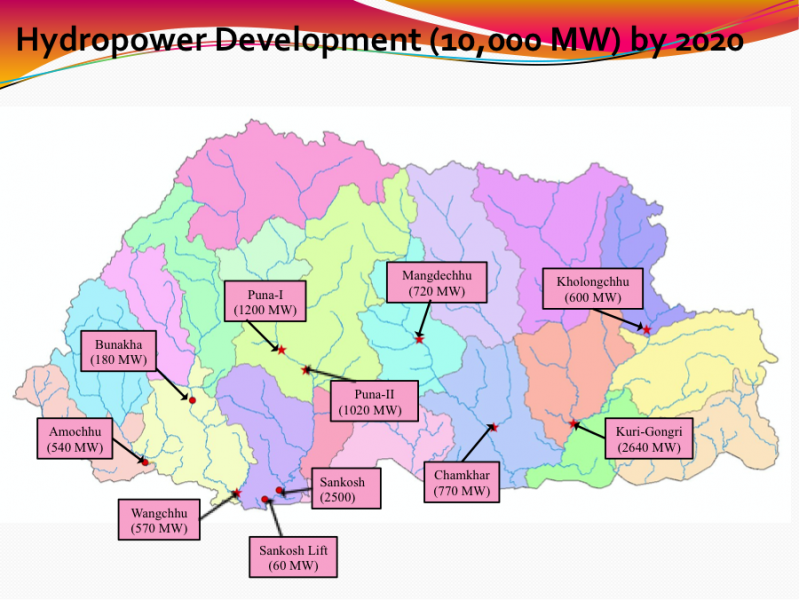 Hydropower is the bread and butter sector of the Bhutanese economy. The country is developing capacity to exploit the hydropower potential of rivers flowing within the country's boundaries. Nearly three-fourths of all electricity generated in Bhutan is exported to India.
Photo: Bhutan Rivers Watch
"While hydropower will remain dominant in the foreseeable future, Bhutan's demographic transition requires more concerted efforts to develop its private sector," the report suggests.
Even in a conservative scenario, the World Bank states that hydropower generation is likely to triple from 1,606 MW in 2017 to 5,300 MW in 2023.
Creating 'good quality jobs' to meet the better educated workforce in Bhutan
At the same time, the share of working-age population is projected to increase from 65 percent in 2010 to 71 percent in 2025.
In other words, about 8,000 people will enter the labour market every year, and most of them will be better educated than the previous generation.
"Therefore, it will be important to create good quality jobs for the working-age population to ensure sustainable and inclusive development in the future," the report states.
Currently, Bhutan's public sector provides about 20 percent of the total jobs packaged with better monetary and non-monetary benefits than its private sector.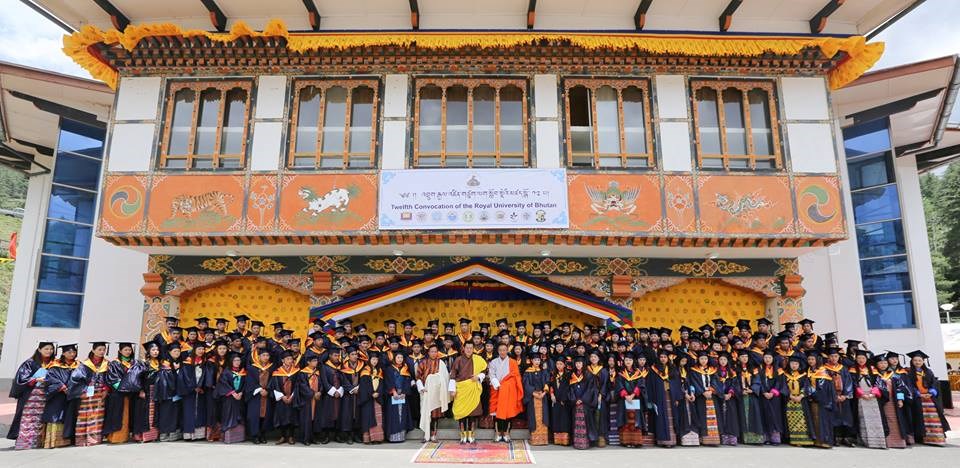 His Majesty graced the 12th Convocation of the Royal University of Bhutan. Around 3,000 graduates who completed their degrees in 2016 attended the ceremony.
Photo: Facebook/His Majesty King Jigme Khesar Namgyel Wangchuck
However, the structure of Bhutan's employment remains overwhelmingly agrarian, accounting for 70 percent of the jobs in the private sector. This, according to the World Bank, reflected a lack of job opportunities for Bhutan's youth.
The World Bank also found out that there is no comprehensive policy to handle human capital in Bhutan.
This is possibly attributed to the following factors: limited participation of the private sector in the education and health sectors as well as little collaboration between the private sector and colleges.
This article first appeared in Kuensel and has been edited for Daily Bhutan.
---