Home-Made Mountain Mist Soaps Well-Received in Bhutan
Mountain Mist produces three types of soap such as lemongrass, apple and lavender.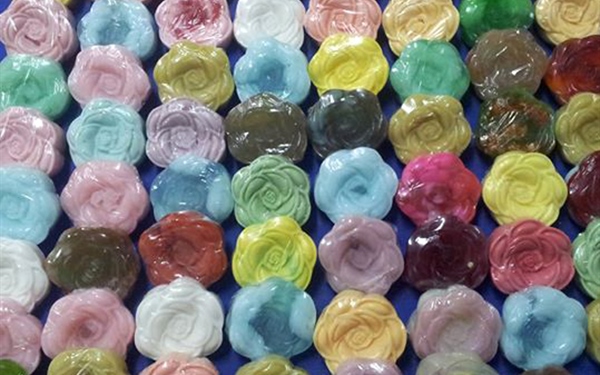 (Source: Facebook/Mountain Mist Manufacturing Unit)
By Dechen Dolkar | Business Bhutan
Produced under the brand name of Mountain Mist, locally made laundry items such as soap and phenyl have finally made it to the shelves.
Mountain Mist produces three types of soap such as lemongrass, apple and lavender. They also produce two types of phenyl: Tongfu and lemongrass phenyl.
Inspiration behind starting Mountain Mist
Twenty-nine year old Chimi Lhamo, a mother of two, said that it was her husband who had introduced her to the idea of soap manufacturing.
She said that her husband acquired the skill when he attended a soap-making workshop, which was organised by His Majesty's Secretariat in 2014 with the support of experts from Thailand.
Upon completion, he demonstrated the techniques and made soap which she used on a trial basis. After using the soap, she realised that her skin tone and texture had improved.
"My skin became clearer, more moist and supple. The soap's main ingredient was glycerin. Glycerin-based soaps are considered to be one of the most moisturising types of soap," said Chimi Lhamo.
Source: Facebook/Mountain Mist Manufacturing Unit
The natural combination of glycerin, lemongrass oil and colour pigment such as turmeric help skin to become healthy and supple.
Due to the huge positive benefits, she asked her husband to teach her the skills of soap-making so that she could produce some for personal use.
Chimi's soaps became popular among her circle of family and friends
Being a housewife, she made soaps during her free time not only for herself but to occasionally present them as gifts to some of her relatives and friends. The raw product became very popular and in much demand.
Many encouraged her to take up the skill professionally and manufacture soap on a commercial scale.
"With this positive feedback and impetus, I decided to manufacture a small batch and sold them through social media. My initial batch did very well at the market with very positive feedback," she said.
Chimi Lhamo started her business in 2016 with a collateral-free loan of Nu 600,000 from the Loden Foundation.
Mountain Mist manufactures hotel soap as well. "We are also bringing up a new liquid laundry soap but it's not been launched yet," said Chimi Lhamo.
Natural ingredients used in making Mountain Mist products
The natural ingredients used in the Mountain Mist products include lemongrass, apple, lavender and pine. Some of the ingredients are imported from Thailand and India while others are locally sourced products.
A 25g Mountain Mist hotel soap costs Nu 10, a 60g of body soap costs Nu 50 and a bottle of phenyl costs Nu 85. Most of the merchandise are sold to hotels, medical suppliers, grocery and handicraft shops.
"Our products are very new to the market yet we are doing well so far. Our products have reached five dzongkhags as of now," said Chimi Lhamo.
Her success does not come with some stumbling blocks. Chimi said that the challenges she faces right now are the fact that her business is not fully set up yet. They are not stable financially and marketing is also difficult because people do not trust a new product easily.
Chimi Lhamo added that currently they manufacture the products manually but in the future they are planning to expand the company and increase production.
As of now, Mountain Mist has two employees and is planning to recruit two more.
This article first appeared in Business Bhutan and has been edited for the Daily Bhutan.
---