Gabbar – The Popular Street Food Vendor Of Trashigang Known For His Momos And Other Snacks
Sonam Wangdi started his business in early 2008 in the dzongkhag. The 40-year-old entrepreneur began selling momo (dumplings) on foot.
(Source: Pinterest/Bhutanesefood)
By Younten Tshedup | Kuensel
Surrounded by school children, Sonam Wangdi, also popularly known as Gabbar, is busy inside his white Maruti-Van in Trashigang.
His 'crude' form of food-truck serves some of the 'best' and is the only street-food service in Trashigang.
How Sonam started his business
Sonam Wangdi started his business in early 2008 in the dzongkhag. The 40-year-old entrepreneur began selling momo (dumplings) on foot.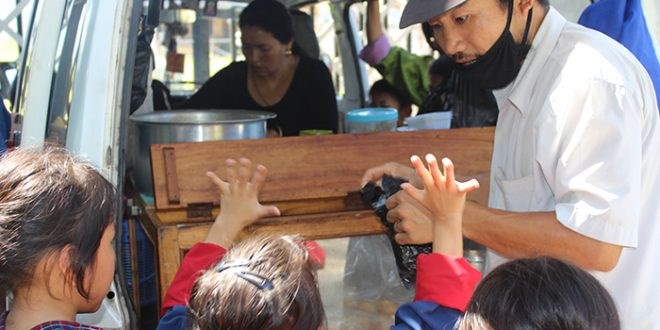 Source: Kuensel
"I used to carry hot steaming momos on my back and go around town. It was a good business."
With the profit he made from selling momos, he bought a van. He also tried his luck running a hotel.
"With no workers and competition from the rest of the business communities, I could not continue the hotel business."
Having stayed in Samdrupjongkhar driving taxi for some time, he said that the   Bhutanese enjoyed Indian street food.
"I knew that if a business has to succeed, it has to be innovative but at the same time it has to please your customers."
In 2013, he started selling Indian street food like pani-puri, chola-puri (gu-gu-ni), fried chana (chickpea), momo and shabalay among others.
Sonam's snacks are crowd pleasers for both young and old
Demand for his snacks remains high among students till today. There are almost an equal number of adult customers as well.
Sonam Wangdi said that the demand continues for the snacks because there are no other outlets providing similar service.
"Children like the salty-sour flavours which is why my business is a success among them."
Every Tuesday and Thursday, Gabbar arrives with his white van in three particular locations. The first destination is at the staff-room at the Trashigang middle secondary school. Sonam Wangdi and wife, Choney Wangmo, then drive to the hospital area.
Health workers, patients and their attendants alike, the crowd starts to pour in as soon as the van enters the hospital's parking lot. After serving the crowd there, exactly at lunchtime, the couple leaves for the school.
Sonam's popular snacks run out by 2pm
This is where the business peaks.
Students continue to swarm the van for the next one and half hours. "I was first recommended by my boy to have a taste. And now I cannot stay without eating a few pieces when Gabbar is here," said a parent.
There are also incidences at times where a student approaches them without money. They give away snacks worth Nu 20 to Nu 40 for free. However, the couple is still able to make about Nu 6,000 in profit everyday.
"It is a good business and there is not much competition as of now," said Sonam Wangdi.
Future plans for Sonam
The couple has plans for expansion. Sonam Wangdi said that he wants to open a sweetshop in Trashigang and gradually stop his food-van business.
"Bhutanese have a sweet-tooth for Indian sweets. And currently, there are no such shops which is why I want to try my luck in the business."
Meanwhile, with people still stopping by the van, the couple usually close their business by 2pm.
"Everything is finished sir," responds Sonam Wangdi to a person approaching the van. "We will be back here on Thursday same time, same place."
This article first appeared in Kuensel and has been edited for the Daily Bhutan.
---