Farmers in Samtse Ready To Reap Quinoa
Farmers in Samtse are gearing up to harvest quinoa, a new crop which they started cultivating on a small scale as a pilot project last year.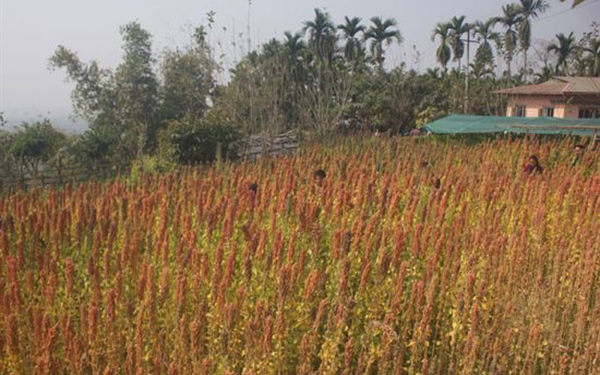 (Source: http://www.kuenselonline.com)
Farmers in Samtse are gearing up to harvest quinoa, a new crop which they started cultivating on a small scale as a pilot project last year.
Though most of the farmers have yet to harvest, but the yield in the field has assured them about its bright future. With its success, now farmers in most of the villages in the Dzongkhag are planning to go on a mass cultivation with the assistance from the gewog agriculture extension office.
Norgaygang's Agriculture Extension Officer, Karma Tenzin, said the farmers are impressed with the yield of the pilot project.
He added that due to the availability of different varieties, farmers after examining its success can opt for the type of variety they want for cultivation. Norgaygang gewog has quinoa cultivation in around 13 acres of land.
"The cereal is very much favourable and the farmers are willing to go on a mass cultivation from this season," Karma Tenzin said.
Advantages of cultivating quinoa
With the cardamom yield, he added that the crop is the next best alternative for the farmers to earn as a kilogram of quinoa is estimated at Nu 150. He also added that the cereal is more nutritious than rice.
Meanwhile, the research centre in Bhur is reportedly exploring the market opportunities for quinoa.
Quinoa can also be cultivated biannually with different varieties. It can be cultivated from October to January and from March to June.
Quinoa as a dry crop needs limited moisture, but Karma Tenzin said that watered quinoa plants give higher yield. "So I am planning to teach the farmers to moisten it before sowing," he said.
A farmer from lower Bara, Bhim Maya Chhetri, 38, meanwhile, is satisfied with the yield this year. She had cultivated quinoa in her 30 decimal lands last year. Now she plans to cultivate on a large scale.
Great potential in cultivating quinoa
Tendu's Gewog Agriculture Extension Officer, Kezang Wangmo, said farmers are now convinced on going for mass cultivation after favourable harvest in the pilot project.
"Otherwise, they were reluctant being a new crop," she said. 30 farmers in Tendu gewog have cultivated quinoa in three acres of land altogether.
.Another farmer from Kingaling in Tendu, Rekha Gurung, 58, who has cultivated quinoa in her 10-decimal-land expects to reap around 15 kilograms of quinoa this year.
Marketing quinoa
"The yield is good and we are planning to explore market situation," she said.
Namgaycholing's Agriculture Field Extension Officer Dorji Wangchuk said being a pilot project, the crop after harvest will be supplied to the RNR Research Center in Yusipang in the capital for supplying seeds to other regions.
Meanwhile, Samtse has been selected for this crop cultivation and was supplied with three varieties of quinoa out of the total 13. The government distributed the seeds last year.
Namgaycholing has 2.8 acres of land under quinoa cultivation by 30 households.
Quinoa is, meanwhile, used to make a variety of dishes such as rice, porridge, desi and salad. It can also be used to make flour.
By Krishna Ghalley from Bara, Samtse
This article first appeared on Business Bhutan and has been edited for the Daily Bhutan.