Blacksmithing – A Vanishing Art Form.
Blacksmithing is a dying art. There are only a few blacksmiths in Tsirang today.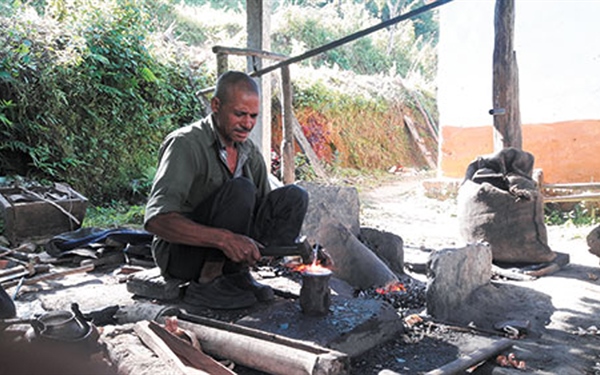 (Source: http://www.kuenselonline.com)
He was about 14 when he first laid his hands on the hammer and anvil. By helping his father, he learnt the art of shaping household tools out of metal pieces.
Today, Padam Lal Biswa, 59, is one of the most sought after metal workers in Tsirang. He spends most of his time in his workshop beating metal and designing different types of weapons. He makes sickles, patangs, khukuris and spades, among others.
Behind his house in Tsholingkhar-toed is a hut. It is his workshop, a simple affair, with an old bellow, a few hammers and some blacksmithing tools.
"This workplace was designed during my grandparents' time," he said.
A vanishing form of art
Blacksmithing is a dying art. There are only a few blacksmiths in Tsirang today.
Padam Lal has 100 sickles to make.  He received the order from Gelephu. He also has an order for 10 patangs, two of which he has already finished making.  At his age, he can only manage about three sickles a day.
At a tender age of eight, he used to make at least a dozen farm tools a day. But after he fractured his right hand in 2001 from falling off a roof, his performance at work declined drastically.
He is also a certified Level 2 metalworker recognised by the Ministry of Labour and Human Resources.
Difficulty in finding youth to pick up blacksmithing skills
Padam Lal said that blacksmithing is a vanishing form of art and that youths are not interested in it. "I'm ready to teach all my skills to any interested learners, but no one seems to like this job," he said. "I'm afraid this art will die with me."
Padam Lal makes roughly Nu 15,000 a month. Sometimes, his monthly income crosses Nu 30,000.
He has four sons; two have picked up the art. "They work only in my absence. Otherwise, they are occupied with other works," he said.
By Nirmala Pokhrel (This article has been edited for the Daily Bhutan)
---