'Bhutan For Life' Aims To Safeguard Its Protected Areas And Remain Carbon Negative
The 'Protected Areas' in Bhutan comprises of four national parks, four wildlife sanctuaries and one nature reserve.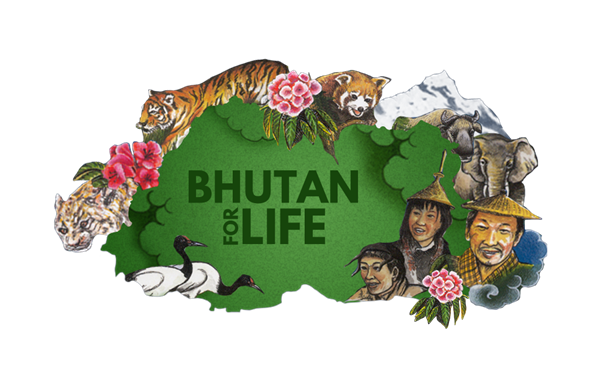 (Source: Bhutan for Life)
By Staff Reporter | Kuensel
Her Majesty the Gyalyum Tshering Pem Wangchuck, the Co-Chair of the Bhutan Foundation handed over a cheque worth USD 520,000 to the Chairman of 'Bhutan for Life' and the Agriculture secretary, Rinzin Dorji in a simple ceremony on December 11.
The Bhutan Foundation works in five core areas – conservation of the environment, preservation of culture, equitable development, good governance and the creation of greater awareness and understanding of Bhutan around the world.
To ensure that Bhutan remains economically and environmentally sustainable, the government and the World Wildlife Fund have committed to create an innovative funding approach called 'Bhutan for Life'.
More about 'Bhutan for Life'
'Bhutan for Life' was initiated to improve the management of the country's 'Protected Areas' and to ensure that at least 60% of the country remains under forest cover.
However, some of these 'Protected Areas' are increasingly facing encroachment from various factors such as: economic development in the surrounding areas, illegal extraction of resources and adverse impacts of weather-related events such as landslides, floods and forest fires.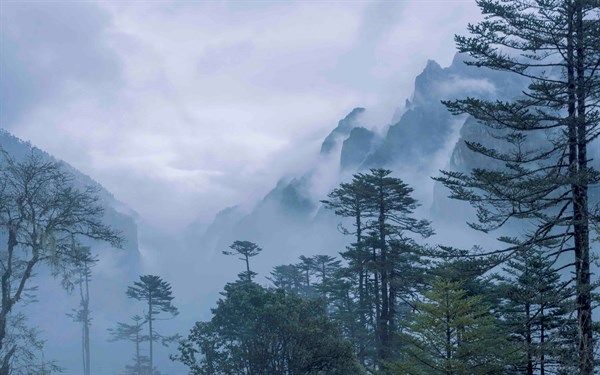 Source: DrukAsia
As Bhutan has committed to its goal of remaining carbon neutral under the Paris Agreement, constructive steps have been taken by 'Bhutan for Life' to maintain this goal. It has supported the government in securing long term revenues and resources to safeguard the 'Protected Areas'.
'Bhutan for Life' also encourages the optimal use of natural resources while enhancing the livelihoods of its people and the country's unique biodiversity.
The initiative will also provide the government with a USD 40 million transition fund until 2030. The fund will be used to build up and effectively manage a robust network of protected areas and wildlife corridors, which covers 51% of the country.
Where are the 'Protected Areas' in Bhutan?
The 'Protected Areas' in Bhutan comprises of four national parks, four wildlife sanctuaries and one nature reserve.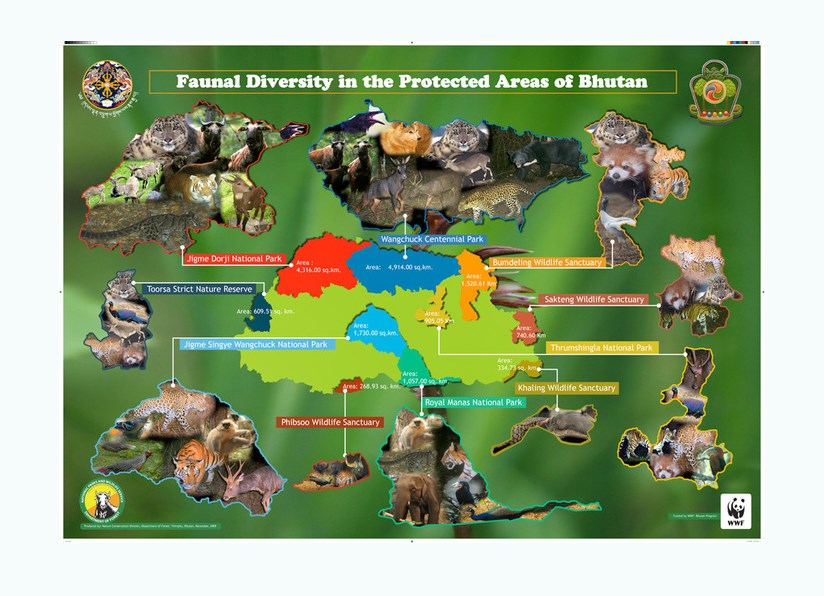 Source: WWF Bhutan
These nine 'Protected Areas' encompass 17 dzongkhags and the list is as follows:
Jigme Dorji National Park
Jigme Singye Wangchuck National Park
The Royal Manas National Park
Thrumshingla National Park
Bumdeling Wildlife Sanctuary
Sakteng Wildlife Sanctuary
Khaling Wildlife Sanctuary
Phibsoo Wildlife Sanctuary
Torsa Strict Nature Reserve
Revised to represent Bhutan's complete ecosystems in 1993, the parks network covers 26.3% or 10,758 square km of Bhutan's land. An additional 9.5% of the country was demarcated as 'biological corridors' in 1999, linking all the nine 'Protected Areas'.
A wealth of flora and fauna resides in Bhutan
Bhutan is a haven for wildlife, it is endowed with a wealth of some 5,000 species of plants and more than 200 species of animals.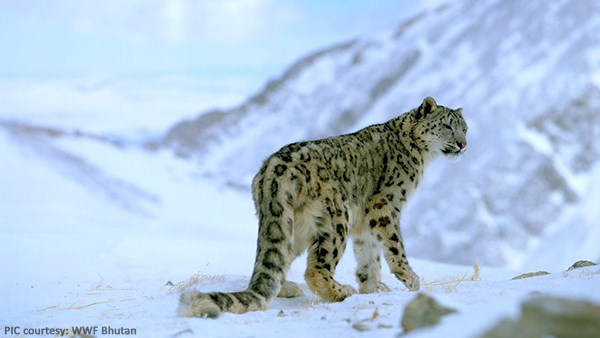 Source: WWF Bhutan
This network will protect and restore wildlife—including endangered animals such as elephants, tigers, the elusive snow leopards and the critically endangered white-bellied herons.
It will also contribute to rural economic development and support will be provided for robust climate mitigation and adaptation measures.
Far-reaching positive impact from the initiative
Some of Bhutan's rivers flow into neighbouring China, India and beyond. They are vital parts of a region that provides water for at least one-fifth of the world's population.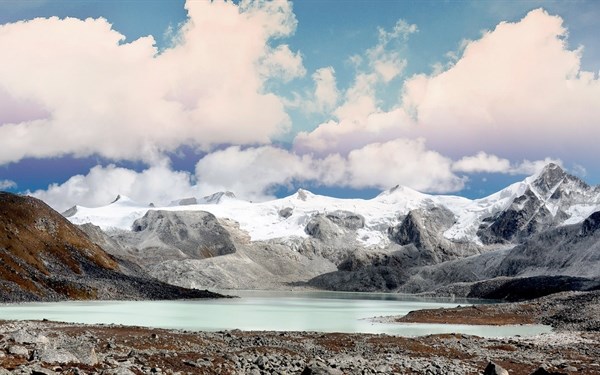 The Wangchuck Centennial Park in northern Bhutan is the kingdom's largest national park, spanning 4,914 square kilometres over five districts. 
Source: Bhutan for Life
In addition, Bhutan is known globally as a net sink for greenhouse gases. Its pristine forests sequester more than 6.3 million tons of carbon dioxide, which is four times more than the amount which Bhutan emits, thereby mitigating the negative fallout from global warming.
In fact, Bhutan is not only carbon neutral, it is carbon negative. The entire country generates 2.2 million tons of carbon dioxide, but its forests sequester more than three times that amount, so it is a net carbon sink for more than 4 million tons of carbon dioxide emitted each year.
"The impact will extend far beyond the country's borders to the millions of people who rely on the region's rivers. It will elevate Bhutan across the world as an example of permanent forest protection and climate resilience," a press release from the Bhutan Foundation stated.
This article first appeared in kuensel and has been edited for the Daily Bhutan.
---