Bhutan Association of Women Entrepreneurs to propose for women's chamber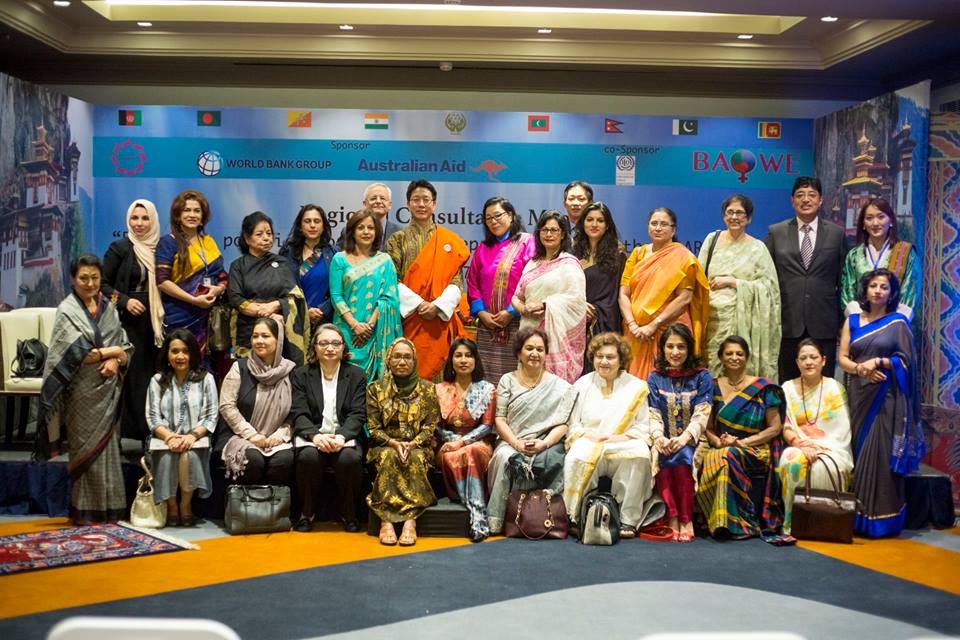 Bhutan Association of Women Entrepreneurs to propose for women's chamber
The two-day seminar on developing " Effective policies for women entrepreneurship in the SAARC region" which saw women entrepreneurs from the eight member states ended Friday here in the capital.
Lyonpo Domchoe Dorj, the foreign affairs minister, in his keynote address said that the engagement of women entrepreneurs in mainstream economy is literally low in South Asia and that the need for framing policies to facilitate women in this sector was of immense value.
"The government is initiating rural banking and entrepreneurships programmes and micro-level financing through various revolving funds. And about 47% beneficiaries of these schemes are women," lyonpo said.
The seminar, according to the secretary to the government of Nepal Yam Kumari Khatiwada, would give that much needed impetus to women SDFs in the region by means of adopting women-friendly legislations and identifying other key areas of development in bolstering the growth of women entrepreneurs in the region.
"We hope that the seminar will come up with concrete resolutions to further women entrepreneurs in the SAARC region," Khatiwada said, adding that Nepal is also making headways for women representation in all level of decision making, starting from the local governance where they have seats reserved for women.
The participants also talked about the possibilities of developing a SAARC women's bank, with regional offices in all member states, and development of a database of women entrepreneurs in the region to facilitate women SMEs in the region.
The CEO of Bhutan Association of Women Entrepreneurs (BAOWE) Damchae Dem said that the meet was of immense value to Bhutan as it opened avenues for Bhutanese women SMEs for further growth in the region.
"We will also propose for a women's chamber which has become the need of the hour," Damchae Dem said, adding that Bhutanese women never felt the need for the establishment of a chamber as gender sensitivity in Bhutan was, and is, still non existent.
A participant from Maldives said that it is time that Bhutan establish a women's chamber as it would become a nodal agency for other international agencies, including donor agencies, to intervene should any issues related to women entrepreneurs rise.
"Women chambers have been very effective in addressing pertinent issues facing women SMEs and other problems of concern in SAARC member countries," the participant said.
Pushpa Chettri, an entrepreneur based here in Thimphu, said that they will propose the establishment of a Bhutan women's chamber to the government and was hopeful that it would materialize soon.
Among many other pertinent issues facing women in the SAARC region today, participants said that women entrepreneurs, though provided with a platform, was still faced with numerous challenges like social and cultural stigmas and non-availability of a level playing field.
"Though there are regulations at place there still was the need to frame specific policies for women entrepreneurs as there are still no specific womencentric financial platforms both country-wise and the region as a whole," a participant from Sri Lanka said.
According to her, the member states could look at possibilities to open up showrooms in all member states that can be used as an outlet for displaying products from different women entrepreneurs across the region so that the entrepreneurs get a platform to market their products.
A representative from the Indian delegate said that they would look at avenues to open up a Bhutan stall in New Delhi that can be used by women exporters from Bhutan to showcase their products.
The participants also deliberated on the possibility of introducing a one tax scheme for all member states and the establishment of a SAARC women bank among others to facilitate better trade and help women SMEs to avail loans and other financial schemes.
The seminar also focused on issues to improve access to market information, establishing specific economic policies for women SMEs, simplifying the process of registering their business and building more avenues to avail loans and financial support for their businesses.
Apart from establishing a women's chamber in Bhutan, the seminar recommended that a women representative of South Asian Women's Development Forum (SAWDF) be appointed in the SAARC Technical committee and the establishment of a SAARC Women's Bank with regional offices in all member states.
The seminar, hosted by BAOWE, was organized by SAWDF with technical assistance from the World Bank, International Labour Organization and the Australian Bank.