According To The World Bank, Bhutan Ranked 81st In Ease Of Doing Business Report 2019
The rankings were determined by sorting the aggregate scores on 10 parameters, each consisting of several indicators.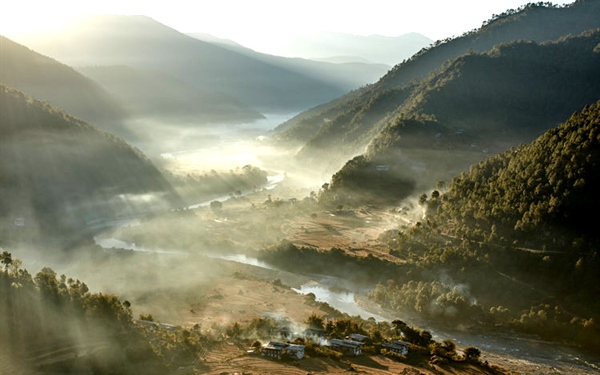 (Source: Bhutan Scenic Tours)
By Tshering Dorji | Kuensel
Bhutan's ranking on the ease of doing business has been slipping over the last three years despite reforms and the former government's pledge to take the country's ranking to the top 50.
The World Bank's Ease of Doing Business Report 2019 which compares business regulation for domestic firms in 190 economies, placed Bhutan in the 81st position, down from 73rd in 2018.
A high ranking on the ease of doing business index means that the regulatory environment is more conducive for the starting and operation of a local firm. The rankings were determined by sorting the aggregate scores on 10 parameters, each consisting of several indicators.
How did Bhutan fare in the South Asian region?
In last year's report, Bhutan was considered the best place to do business in South Asia. This year, India tops the regional ranking at 77th place, up from 100th. Bhutan comes in second in the region followed by Sri Lanka ranking 100th, Nepal 110th, Pakistan 136th  and the Maldives at 139th position.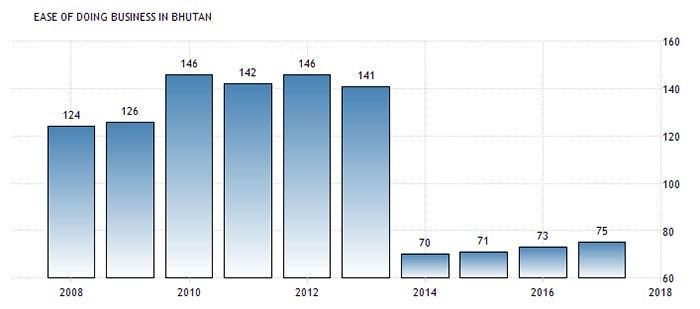 Source: Kuensel
Meanwhile, Afghanistan (167th) and Bangladesh (176th) are the lowest ranked economies in the region when it comes to doing business.
Among the ten parameters used, Bhutan's top ranking was in the parameter that records tax payments, time taken and contribution rate for a firm to comply with all tax regulations.
In terms of paying tax, Bhutan ranks 15th among 190 economies. This is because of the introduction of electronic systems such as RAMIS.
"Bhutan made paying taxes easier by introducing an online platform for filing corporate income tax and personal income tax returns," the report states.
The ranking of Bhutan based on various other parameters
As for two other parameters- trading across borders and enforcing contracts, Bhutan ranked 28th. This translates into about nine hours of trading time consumed in documentary compliance which costs around USD 50 and another five hours in border compliance, which costs another USD 59.
This is with regards to export and for the sake of assessment. The distance from the capital city (Thimphu) to the nearest border was also taken into account.

Source: Kuensel
It takes 225 days to enforce a contract, with each contract costing 23 percent of the contract value.
Bhutan is ranked 54th in the terms of 'registering property' parameter. According to the report, there are three procedures involved in registering a property and it takes 77 days. The quality of land administration is rated 23.5 out of 30.
The country ranks 73rd in 'getting electricity.' It involves four procedures and takes 61 days to get electricity connection. The score on reliable power supply and the transparency of tariff is four out of eight.
On getting credit, Bhutan is ranked 55th as the credit bureau coverage is only about 35.9 percent of the adults. Dealing with construction permit is another parameter where the country is ranked 88th. There are 21 procedures involved and it takes 150 days to get a permit.
It takes 12 days and 8 procedures to start a business in Bhutan, as per the report. The country is placed 91st for starting a new business.
With regards to protecting minority investors, the country is ranked 125th. Bhutan is also placed at 168th for resolving insolvency since there is no practice of bankruptcy yet and thus all scores in this parameter is null.
The importance of removing bureaucracy to promote the ease of doing business
The Ease of Doing Business Report 2019 advocates for both regulatory quality and efficiency.
"It is important to have effective rules in place that are easy to follow and understand. To realise economic gains, reduce corruption and to encourage SMEs to flourish, unnecessary red tape should be eliminated," the report stated.
This article first appeared in Kuensel and has been edited for the Daily Bhutan.
---