Art Exhibition 'Land Of The Thunder Dragon' Held To Celebrate 50 Years Of Bhutan–India Relations
Artworks by 16 Indian and four Bhutanese artists were shown at the exhibition.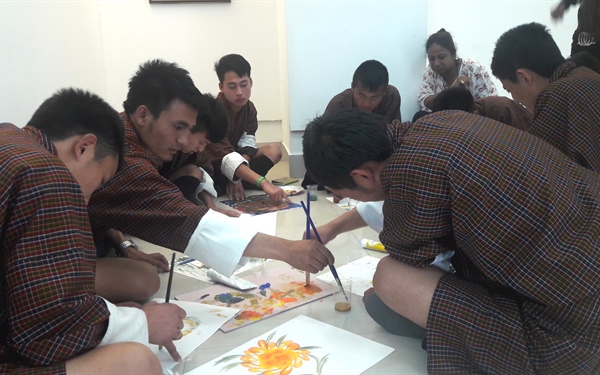 (Source: Kuensel Online)
By Karma Cheki | Kuensel
To celebrate 50 years of diplomatic relations between Bhutan and India, 35 artworks are exhibited at the Nehru-Wangchuk cultural centre in Thimphu.
The exhibition called 'An art expedition to the land of the Thunder dragon' started from June 1 and ends on 9 June.
The artworks are from 16 Indian and four Bhutanese artists from VAST Bhutan. The Art Revolution from India organised the exhibition.
Aims of the exhibition
The Director and founder of Art Revolution, Smruti Sirsat said that one of the aims of the exhibition is for Indian artists to interact with Bhutanese artists. It also serves as a platform for them to get to know the different styles of working or the process of producing art. 
"Only by travelling to another country and mingling with their artists do we get to know their culture and understand the people better," she said.  "Art is the best thing to bring people together."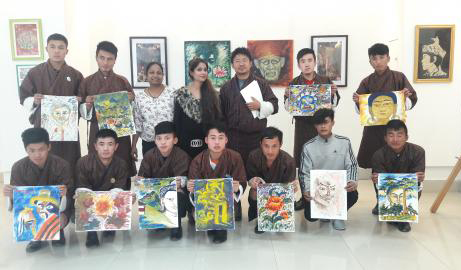 Source: annx.asianews.network
As part of the exhibition, a live painting workshop was also held on 7 June.
Eleven fifth year students from the National Institute of Zorig Chusum and members from VAST Bhutan participated in the workshop.
Paintings by Bhutanese artists will be exhibited in India
Smruti Sirsat said that for better cultural exchange, the live paintings made by the participants would be taken to India and exhibited there.
She said that as most participants are from the National Institute of Zorig Chusum, they would get to learn how the local artists work. 
"Looking at a painting when it is ready is different from looking at it when they are working," she said. "Seeing how it is made and their techniques is something very enriching."
Merits of watching an artist at work
She added that when an artist is working, people get to know what the artist's thought process is and their techniques such as the different ways of brush strokes. This will shed more light and help in understanding the art and culture of a place more.
One of the participants, Kezang Dawa said that as they study traditional art, the workshop is a good opportunity to compare and gain more experience.
"It is important for artists to mingle and share their works as we can exchange ideas and gain experiences from our differences."
This article first appeared in Kuensel and has been edited for the Daily Bhutan.
---